Evanston, Illinois —(Map)
Pablo Picasso is one of the most famous artists in the world. When his paintings are sold, they usually cost millions of dollars. Now an art museum in Canada has used a special kind of x-ray to help them find new secrets in one of Picasso's famous paintings, "La Miséreuse accroupie", or "The Crouching Beggar".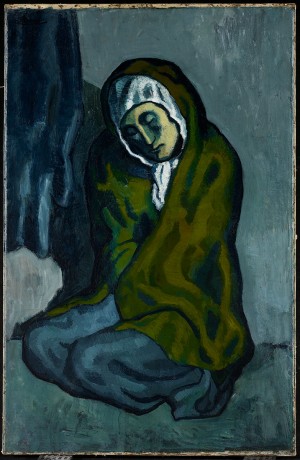 It is not unusual for artists to paint pictures on top of other pictures. At one point in his life, Picasso did this often, probably as a way to save money. People often call this time Picasso's "Blue Period", because he used a lot of blue in his paintings.
People at the Art Gallery of Ontario (AGO) thought that Picasso's painting "The Crouching Beggar" was painted on top of another picture, but they did not know exactly what. Using x-rays, they learned that Picasso had painted his picture on top of a landscape painting. A landscape painting is a picture of nature, and can include things like hills, trees, or the sea.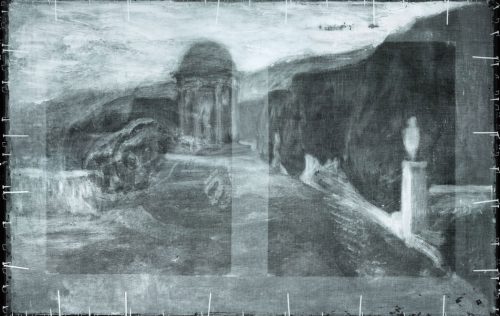 Picasso turned the landscape painting on its side and used some of the outlines of the old painting when he made his new painting. The people from AGO worked with scientists at Northwestern University. These scientists used x-rays in a special way, called "x-ray fluorescence", to test the painting.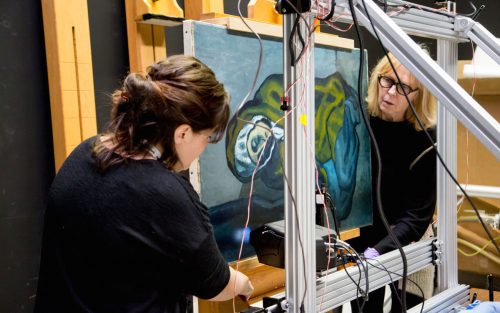 The x-ray images showed more details of the landscape. But they also gave another surprise. They showed that at first Picasso had painted his beggar with her arm out, holding a piece of bread. But in the final picture, he painted over her arm, so that all you can see is her coat.
Scientists and people who study art are excited about this new way to use x-rays. It is much cheaper than the old way. The machine is also portable, so it is much easier to move around. Some people think that there are many other secrets that can be found by looking at other paintings in this new way.
😕
This map has not been loaded because of your cookie choices. To view the content, you can accept 'Non-necessary' cookies.