Holworthy (Sydney), Australia —(Map)
A bushfire in Australia has burned about ten square miles of land near Sydney this weekend. Hot weather and strong winds made it hard to fight the fire. The fire is under better control now. No one was hurt badly and no houses were lost.
In Australia, "the bush" usually means a wild area where not many people live. Bushfires are common in Australia because of the hot, dry weather. Strong winds can blow the flames and make them travel far and fast.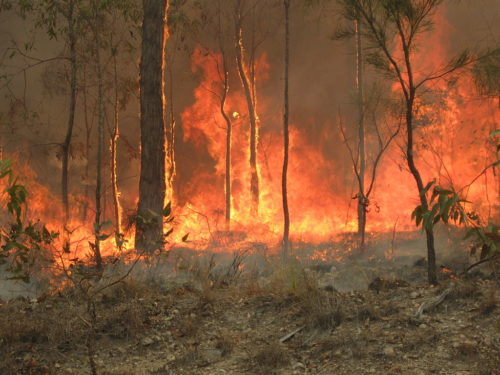 In Australia it is early fall now. The weather has been much hotter than normal and there has not been much rain. That has left trees, bushes, and grass very dry.
Once the fire started on Saturday afternoon, it was spread quickly by strong winds. The winds blew at 15 to 25 miles per hour (mph), with some gusts blowing as fast as 45 mph.
Moorebank Avenue, #Holsworthy Fire: Latest Linescan taken at about 4:10pm showing current fire activity. Brighter areas are more intense fire. #NSWRFS #nswfires pic.twitter.com/R0CbCdHymG

— NSW RFS (@NSWRFS) April 15, 2018
Over 500 firefighters in the New South Wales (NSW) area of Australia worked hard to stop the bushfire. They used almost 100 fire trucks and 15 planes and helicopters to try and get the fire under control. Police think someone may have started the fire on purpose.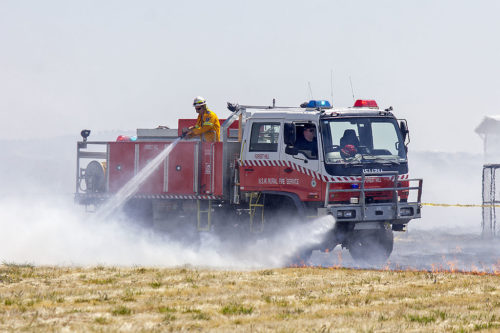 As the bushfire moved toward Sydney, some people were told they needed to leave their homes. Other people were told not to leave their homes because all the roads near their houses went through the fire area. People were able to rescue some of the animals in the fire area.
There has been some amazing work done by firefighter from all agencies. Despite the horrific conditions, there have been no reports of homes being lost. A lot of very hard work still to be done today. @FRNSW #NSWRFS pic.twitter.com/pg0iOMIp8M

— NSW RFS (@NSWRFS) April 14, 2018
Now the winds are blowing more slowly and the fire is more under control. Some people have been told they can go back to their houses. But the firefighters say they will need to be careful. The land is still dry and other fires could start. Shane Fitzsimmons, the leader of the NSW firefighters, said, "…what we really need is a meaningful rain…"