Pahoa, Hawaii —(Map)
Hawaii's Kilauea volcano is still erupting. It has burned over 80 buildings, closed a power station, and forced more people to leave their homes. Pollution from the volcano has traveled over 2,300 miles (3,700 kilometers).
In early May, Kilauea erupted. Lava poured out through many openings in the ground. People were forced to leave their homes.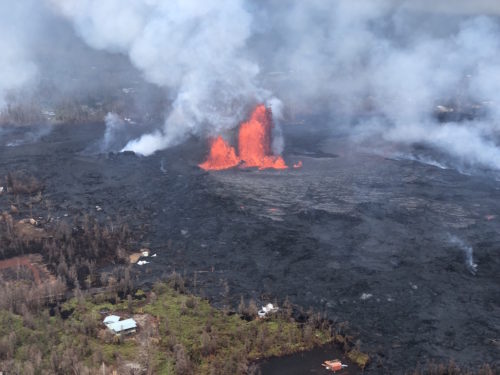 Since that time, the volcano has become more active. Lava fountains have shot as high as 200 feet (60 meters) into the air. Fast moving lava flows have rolled over streets and houses. Over 80 houses have been destroyed by the volcano. Over 2,000 people have been told to leave the area. The lava and the dangerous gases from the volcano make the area unsafe.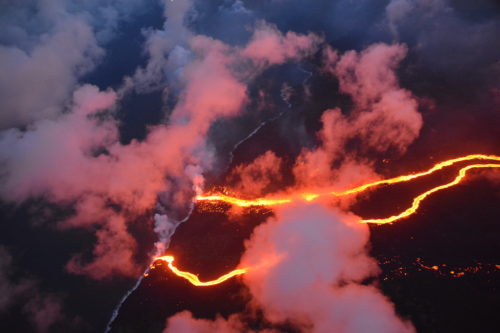 The lava has closed down a power station. Puna Geothermal Venture had drilled deep in the ground to use the earth's heat to make electricity. Puna made about 25% of the electricity used on Hawaii's main island. But when the eruptions started, they had to close up the deep holes that they had drilled. Now lava has destroyed two of their buildings and made it impossible to get to the power station.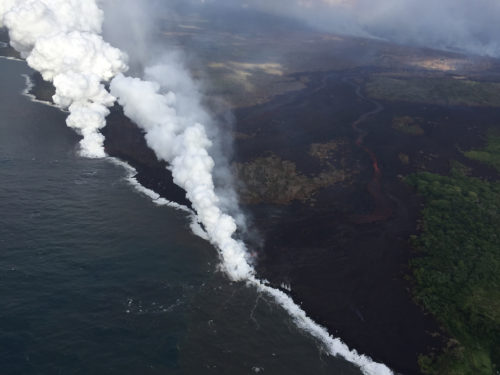 The huge lava flows have reached the sea. When the lava touches the sea water, it creates a white cloud called "laze". The word laze is a mixture of the words "lava" and "haze". The heat from the lava changes the sea water and creates a dangerous chemical that can kill people. Luckily it goes away quickly in the air.
But the volcano is also polluting the air in other ways. The volcano has sent huge clouds of volcanic ash over 10,000 feet (3,000 meters) in the air.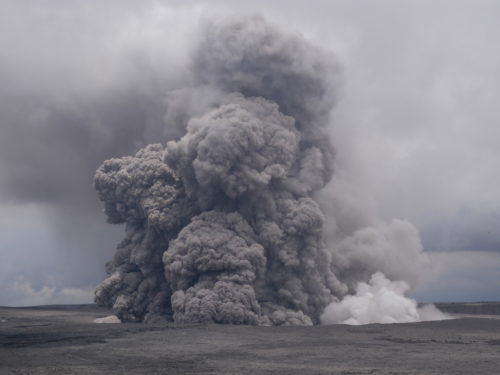 Another kind of pollution is called "vog". Vog is a mixture of the words: "volcanic", "smog", and "fog". Vog is created when volcanic gases mix in the air. It is not deadly like laze, but it is not healthy either. It can make it hard to breathe and can hurt the eyes and throat.
Vog has been common in Hawaii since 1983 when Kilauea first began erupting. NASA even took a picture of it from space in 2009. But now there is so much vog and it has traveled a long way. The Vog from Hawaii has reached the Marshall Islands, which are over 2,300 miles (3,700 kilometers) away.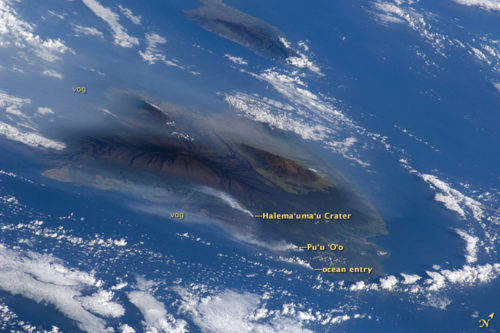 Kilauea is creating serious problems for many people, but still some people have found things to laugh about. Someone on the Internet asked if it was possible to toast marshmallows over lava. The US Geological Survey (USGS) which is watching the volcano closely, said, "Erm…we're going to have to say no, that's not safe. (Please don't try!)"
😕
This map has not been loaded because of your cookie choices. To view the content, you can accept 'Non-necessary' cookies.