Charlevoix, Canada —(Map)
US president Donald Trump has surprised some of America's oldest friends with his comments after an important meeting this weekend. Mr. Trump backed out of an agreement and insulted Canada's leader over the Internet.
The Group of Seven, usually called the "G7", is a group of some of the most powerful countries in the world. It includes Canada, France, Germany, Italy, Japan, the United Kingdom, and the US. The group began in the 1970s, and the other countries have been some of the strongest allies (friendly countries) of the US during that time.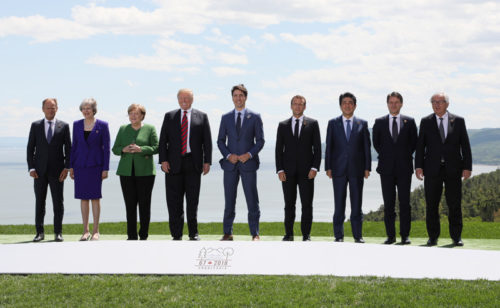 The leaders of the G7 countries usually get together once a year to work on problems that affect the whole world. Often they focus on the economy – how money is made and how things are bought and sold between different countries.
They also talk about other important problems. For example, at this year's meeting they discussed climate change and how to make things more equal between women and men.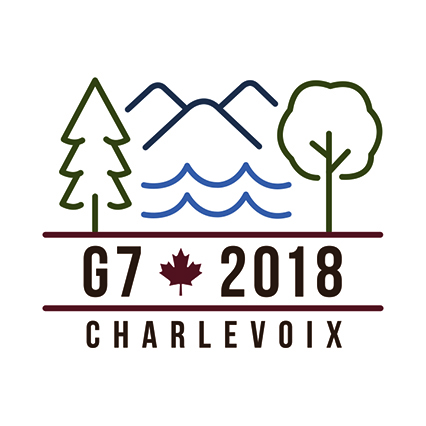 Recently Mr. Trump has been having disagreements with many other countries. He is trying to change some agreements so that the US can get more money when they buy and sell things with those countries. Mr. Trump thinks the agreements are unfair. "We're like the piggy bank that everybody's robbing," he said. But the other countries don't want to lose money either.
Many people are worried that Mr. Trump's actions might lead to a "trade war". In a trade war, each country keeps raising prices and taxes to protect the things that their country sells. Most people believe that all countries get hurt in a trade war.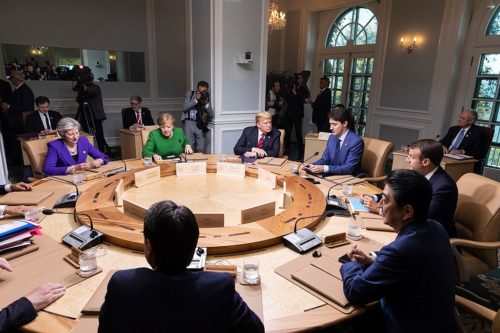 In some ways it seemed like Mr. Trump was not taking the G7 meeting seriously. He came late and left early. He also talked about changing the G7 to include Russia. Russia was in the group before, but was kicked out after it took land from another country. Many people believe that Russia would like to separate the US and its allies in Europe.
The members of the G7 met for two days. They worked together to come up with a statement that everyone agreed on. Usually all the countries sign a statement like this, which is called a "communiqué".
But Mr. Trump left the meeting early, and didn't go to the talks about climate change. He had agreed to sign the communiqué, but he got upset later and changed his mind.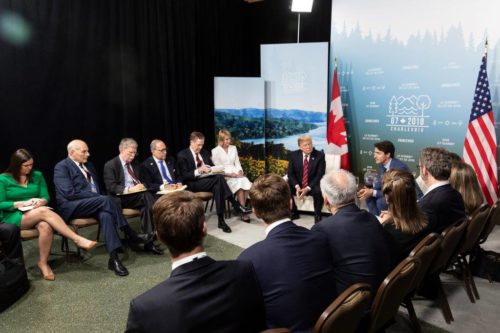 The other six countries were very surprised by Mr. Trump's change of mind. They were even more surprised that he began to attack Canadian prime minister Justin Trudeau on the Internet. Mr. Trump called Mr. Trudeau "very dishonest & weak".
Mr. Trump is now in Singapore, where he will meet with North Korean leader, Kim Jong-un. Some people think that Mr. Trump's attacks were meant to make him seem strong before his meeting with Mr. Kim.
Still, some people are worried about the way that Mr. Trump is treating countries that have been supporters of the US for a long time. "This wasn't just with Trudeau. This is with our best allies," California Senator Dianne Feinstein told CNN. "Not to sign a statement…which stands for everything that we stand for, is a big mistake."
😕
This map has not been loaded because of your cookie choices. To view the content, you can accept 'Non-necessary' cookies.