Kurashiki, Japan —(Map)
Very, very heavy rains have caused huge floods and landslides in Japan. Over 110 people have been killed and millions have had to leave their homes.
Rain at this time of year is not unusual in Japan. Japan has a "rainy season" that usually goes through mid-July. Most of the year's rain falls during this time, and it can rain nearly every day.
But the rains that caused the floods were much stronger than normal, and have set new records. Many places in Japan got three times as much rain in just a few days as they normally do in all of July. In Kochi, more than 10 inches (26 centimeters) of rain fell in just three hours.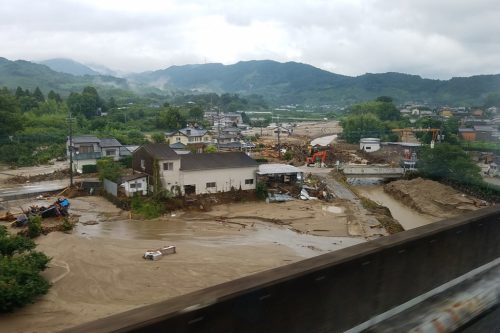 Heavy rains began falling on southern and western Japan near the end of last week. People were warned to watch for floods. Japan also had floods last year in July. But the amount of rain this time still came as a surprise.
About two million people were told they must leave their homes. More that two million more people were told that they didn't have to leave, but that it would be a good idea if they did.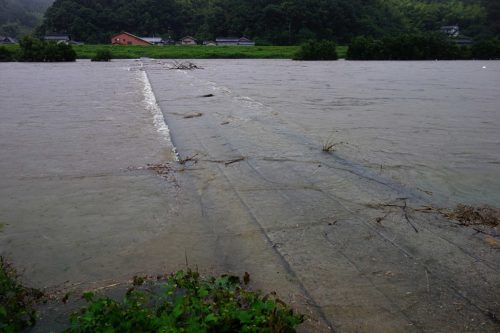 Roads flooded, which made it difficult for people to get out of the flooding areas. Many trains also stopped running.
Problems were made worse when flood waters broke walls that were meant to hold the water back. When that happened, the water rose so fast that people did not have much time to react. In Okayama, over 1,000 people had to climb onto their roofs for safety. Most were saved by boats or helicopters.
Heavy rain in west Japan. This is a house in Kurashiki. https://t.co/shM9TQHLo0 pic.twitter.com/3lUOzBXiGZ

— Mulboyne (@Mulboyne) July 7, 2018
The waters also caused landslides. In many places, huge amounts of dirt and rocks washed away from the sides of hills, moving houses and covering roads.
Japan's prime minister, Shinzo Abe, was supposed to go on a trip. Instead, he stayed in Japan because the problems were so serious. "There are still many people missing and others in need of help, we are working against time," he said.
Around 73,000 workers – police, soldiers, firefighters, and others – have come to the flooded areas to help. They expect to find many more people who were trapped, hurt, or killed by the floods. Many people may need medical help, and others may not have had food or water to drink.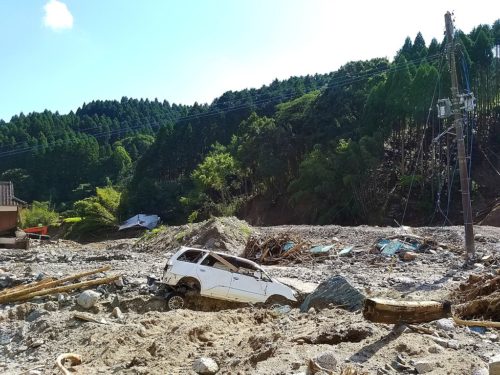 On Monday morning, the weather was sunny in Hiroshima, one of the flooded cities. But the effects of the flooding will last for a long time. Roads will need to be cleared. Water and electric service will need to be reconnected.
Many houses and other buildings were destroyed or are still under water. Some people lost everything they had. It will be a long time before life gets back to normal.
😕
This map has not been loaded because of your cookie choices. To view the content, you can accept 'Non-necessary' cookies.