Big Sur, California —(Map)
Angela Hernandez was very, very lucky. When her car fell off a 200 foot (61 meter) cliff and landed in the ocean, Ms. Hernandez didn't die. But she did get trapped on a tiny beach for a week before she was finally saved.
Ms. Hernandez was driving near Big Sur, California on July 6. When a small animal ran onto the road, Ms. Hernandez turned quickly so that she didn't hit the animal. She lost control of her car and fell over the cliff.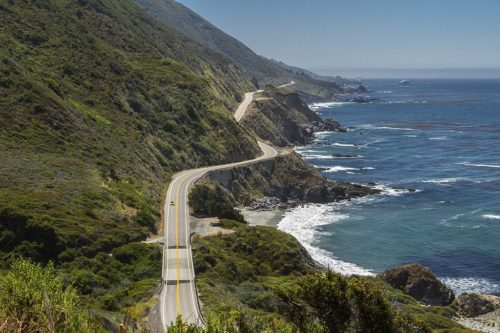 Ms. Hernandez says she does not remember falling. She just remembers waking up in her car with water coming up over her knees. Ms. Hernandez said her whole body hurt, but she had to keep going. She had to break the window of her car and escape.
She climbed out the car window into the ocean and made her way to the shore. Once she was safely on the small, rocky beach, she lay down and fell asleep.
When Ms. Hernandez woke up, she began to understand her situation. She had been badly hurt in the fall. She had no shoes, and her clothes were torn. And she was stuck on a tiny beach more than 200 feet (61 meters) below the highway.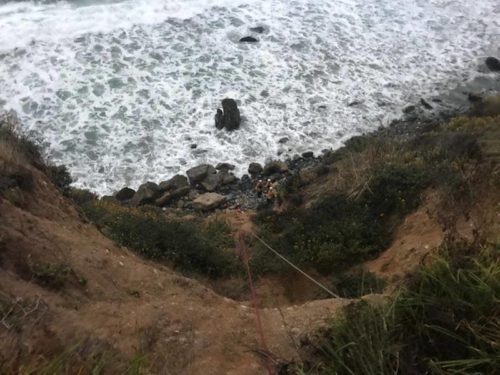 Ms. Hernandez spent the next seven days on the beach. She would climb as high as she could to wave and yell at people on the highway. She hoped someone would see her. But every day, she would have to climb back down. No one had noticed her.
Ms. Hernandez didn't know it, but people were out looking for her. But foggy weather made the search hard.
Ms Hernandez's clothes were getting more torn up as she climbed around. Every night, she would have to climb as high as she could because the beach could get flooded when the tide came in.
Sheriifs Office SAR is out actively looking for Angela Hernandez. She has been missing since last Friday. They will be searching tomorrow as well. Foggy conditions not allowing search by air. pic.twitter.com/Z2uaKw7zzs

— Monterey Co Sheriff (@MCoSheriff) July 13, 2018
Ms. Hernandez needed to drink water, but she couldn't find the water that had been in her car. One day, while she was climbing, she saw water dripping from some moss. She used a plastic hose that had fallen off her car to collect water from the moss so that she could drink it.
On July 13, two hikers, Chelsea and Chad Moore, climbed down to the beach. They had been looking for a place to fish and they had seen Ms. Hernandez's car. They were wondering how it got there. They were very surprised to find Ms. Hernandez there.
Ms. Hernandez said that when she first saw Ms. Moore, "I thought she was a dream." The two hikers gave Ms. Hernandez water and called for help.
Angela is on her way to the hospital. pic.twitter.com/xwH9tBG3ji

— Monterey Co Sheriff (@MCoSheriff) July 14, 2018
Soon rescue workers came. They made sure Ms. Hernandez was okay, then lifted her to the top of the cliff with ropes. They took her to the hospital in a helicopter.
Ms. Hernandez is still in the hospital. Her head is hurt, she has two black eyes, many broken bones, and a problem with one of her lungs.
But Ms. Hernandez doesn't seem worried about these problems. "…None of that matters," she says. "I feel like I have everything I've ever wanted. …life is incredible."
😕
This map has not been loaded because of your cookie choices. To view the content, you can accept 'Non-necessary' cookies.