Attapeu, Laos —(Map)
On Monday, a dam in Attapeu, in the south of Laos, broke after heavy rains. The flooding waters have forced thousands of people from their homes. Several people have been killed, and hundreds are still missing.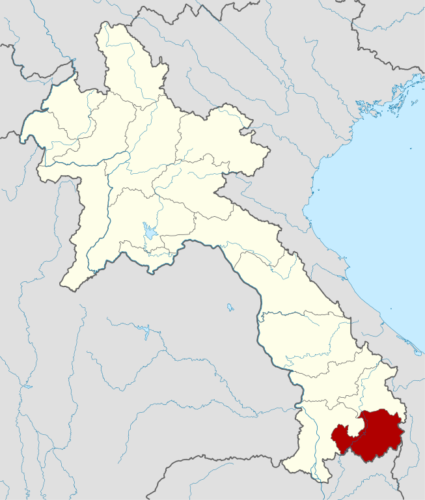 The dam was part of a project that was supposed to make electricity using the energy of river water. "Hydro" means water, so this is usually called "hydropower" or "hydroelectricity". In this case, the Xe-Pian Xe-Namnoy dam collected water from three different rivers into a huge holding area, called a "reservoir".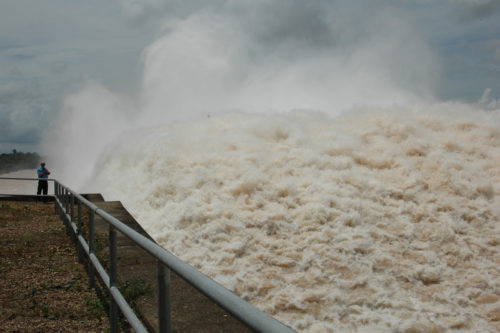 When the dam broke, about 175 billion cubic feet (over five billion cubic meters of water) spilled out and flooded the area below the dam. This amount of water would fill about 2 million full-size swimming pools.
Rivers are an important part of life in Laos, and many villages are built along the edges of rivers. When the water broke loose, it flooded at least six villages. This killed some people and left over 6,600 without homes. Hundreds more people are still missing.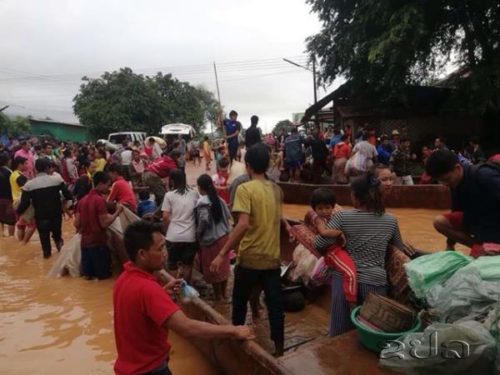 Some people had to climb on the roofs of buildings to stay safe. The government and the company that was building the dam have sent in helicopters and boats to try and rescue people.
Laos is a poor country, but it has a lot of rivers. The government has a goal of becoming the "battery of Asia" to earn money. This means they want to use their rivers to create electricity which they can sell to other countries in Asia.
Laos has 46 working hydroelectric dams. They are planning on building 54 more.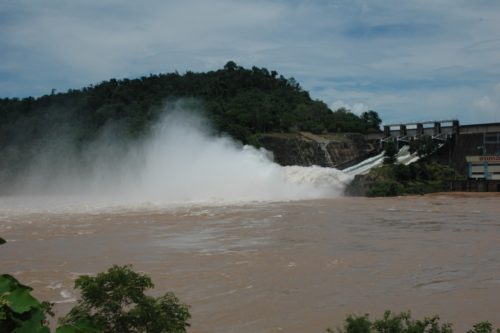 The Xe-Pian Xe-Namnoy dam was started in 2013 and was supposed to be finished next year. The dam cost over $1 billion. When the dam was finished, the owners were going to sell 90% of the electricity to Thailand.
Hydropower is both good and bad for the environment. It's good because it creates electricity without the kind of pollution that comes from burning oil or coal. But blocking off rivers and controlling the water can affect the people and animals that depend on the rivers.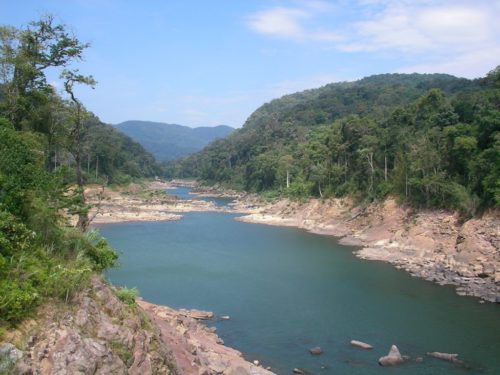 Before the Xe-Pian Xe-Namnoy dam was built, many people complained about the effects it would have. Many families were forced to find new homes to make way for the dam. People were also worried about the animals in the rivers that the dam used.
This is not the first problem Laos has had with its dams. Just last year another dam broke. It flooded seven villages and ruined a lot of farmland.
😕
This map has not been loaded because of your cookie choices. To view the content, you can accept 'Non-necessary' cookies.