Paris, France —(Map)
The Tour de France is a very difficult bike race. It lasts over three weeks and covers 2,082 miles ( 3,351 kilometers). It ended yesterday with a new champion, Geraint Thomas.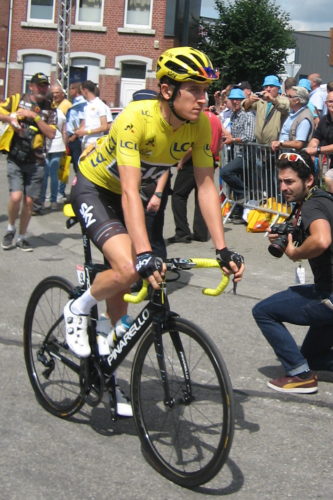 The Tour is a huge challenge. Held in France in the summer heat, bikers race up and down mountains, on steep, windy, and dangerous roads.
Every day the riders finish a different part of the race, called a "stage". Every stage can have a different winner, and each day, the total time is added up. The person who is leading wears a yellow jersey (shirt), to show that they are winning.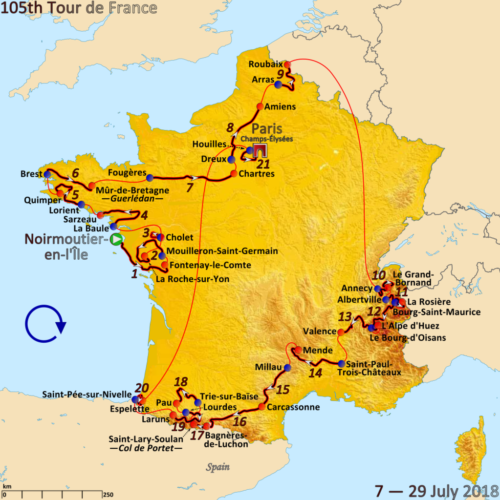 The bikers work in teams. By working together the bikers can help each other out. Sometimes one biker will go in front to protect others from the wind. Sometimes one biker will go as fast as he can to get a good time or to tire out the bikers on the other teams.
Usually each team has a leader. The other team members work to help the leader win. This year's race was unusual because Geraint Thomas, who won the race, was not his team's leader at the beginning.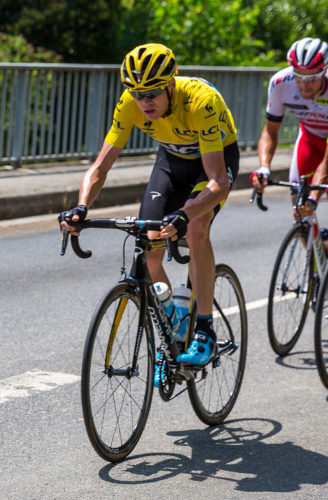 When the race started, Chris Froome was the leader for Britain's "Team Sky". Many people expected Froome to win the race. He has won the Tour de France four times before.
But on one important stage of the race, Mr. Froome said that he wasn't feeling "super". Thomas took over and was soon leading the race.
Some time after that, Froome decided that he would work to help Thomas win. Always before, Thomas had been trying to help Froome.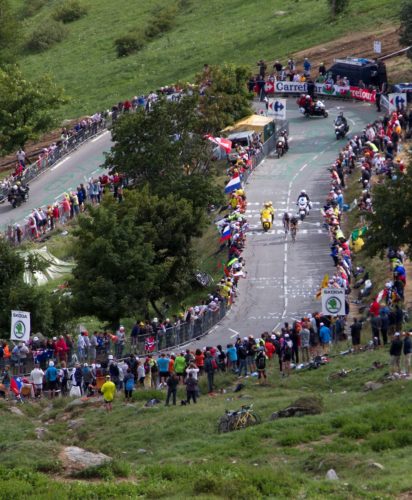 As usual, many riders got hurt during the Tour de France. There were crashes, broken bones, and some people even went flying over walls.
The Tour de France is always rough, but this year was unusual. One day, protesting farmers blocked the road with hay. Police tried to stop the protesters by using tear gas. But the tear gas also affected the bikers. On another day, Froome was knocked off his bike by a policeman who thought Froome was a fan.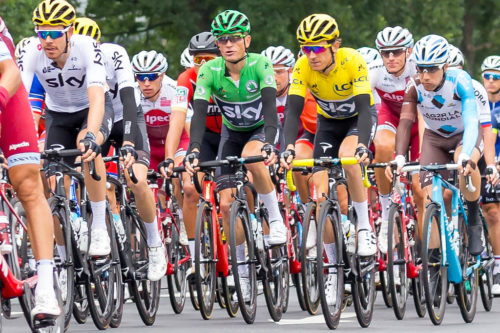 The race ended on Sunday with the bikers arriving in Paris. Thomas won first place, Tom Dumoulin of the Netherlands took second, and Froome came in third.
Women Ride to Make a Point
There are no women in the Tour de France, but some women are working to change this. Every year since 2015, a group of women start one day early and ride the exact same path as the men do on the Tour de France.
They do this because they think there should be a Tour de France for women. There was a women's Tour de France for a few years in the 1980s, but it was stopped.
#ChampsPourElles Elles sont prête sur la ligne de départ. Elles sont 250 ! #TourDeFrance2018 @FDJsport @FDJ @FDJ_NAqui_Fut @desELLESauVELO pic.twitter.com/jcAUDe7NoU

— Les Sportives (@lessportivesmag) July 29, 2018
Every year a few more women join the ride. This year 13 women rode the whole race, but many other women joined on some stages to show their support. Around 250 women biked the first stage.
None of the women are pros like the Tour de France men, and they are not being paid. They are riding to try and make the sport of bike racing more equal.
Arriving at the Champs-Élysées, moments from the end of our journey. Thank you to everyone who rode with us for the final km in Paris! #ThisIsOurTime #TDF2018 pic.twitter.com/OUkLTIZTcU

— Desellesauvelo (@desELLESauVELO) July 28, 2018
😕
This map has not been loaded because of your cookie choices. To view the content, you can accept 'Non-necessary' cookies.