Jakarta, Indonesia —(Map)
Lombok, Indonesia, a place popular with tourists, has been struck by serious earthquakes. At the same time, in Jakarta, the country is preparing to hold the 2018 Asian Games.
Indonesia is the world's largest country that is formed by a group of islands. There are over 16,000 islands in Indonesia, and around 6000 of these have people living on them. The country measures about 3,181 miles (5,120 kilometers) from east to west and 1,094 miles (1,760 kilometers) from north to south.

Indonesia is in an area called the "Ring of Fire". This is a large area in Asia where earthquakes and volcanoes are common.
On July 29, an earthquake hit the island of Lombok. Lombok is popular with tourists. It is not far from the more well-known island of Bali.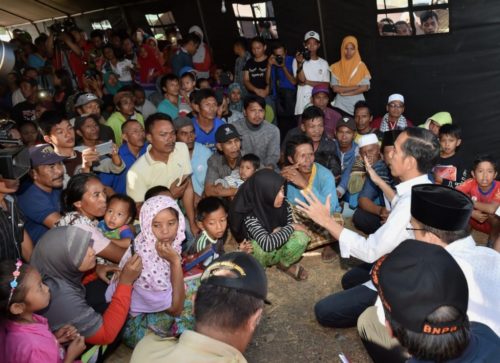 On Sunday, August 5, another earthquake hit Lombok again. This earthquake was even stronger. It had a magnitude of 7.0. Many buildings fell down, and close to 100 people were killed. Up to 20,000 people have been left homeless by the earthquakes.
Rescue workers have arrived and are working to help the people affected by the earthquake.
Getting Ready for the Asian Games
On another island, hundreds of miles away, the country is preparing to hold the 2018 Asian Games. The Asian Games is a sports event like the Olympics. Athletes from about 45 Asian countries compete.
The games will begin on August 18. They will be held in the capital, Jakarta, and in a smaller city called Palembang. Indonesia is expecting around 11,000 athletes and around 100,000 visitors.
One big problem will be Jakarta's air pollution. The air is so polluted that it is often unhealthy to breathe. Indonesia is hoping to improve the air by limiting how often people can drive their cars.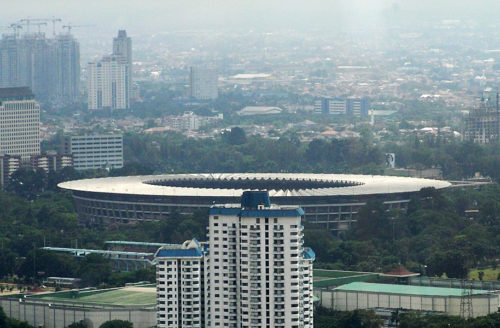 Indonesia did not have the normal amount of time to prepare for the Asian Games. At first, Vietnam was going to hold the games. Indonesia took over when Vietnam had to cancel.
Since some problems can't be fixed in time, Indonesia is just covering them up. The Sentiong River runs by the area where the athletes will live during the games. In Jakarta, many people call it the "black river" because it is so polluted. It looks awful and smells awful.
The government has bought a black net which is over a third of a mile (600 meters) long. They are using the net to cover the river. They hope that this will control the smell of the river and make it look better, too.
Trying to Set a Dance Record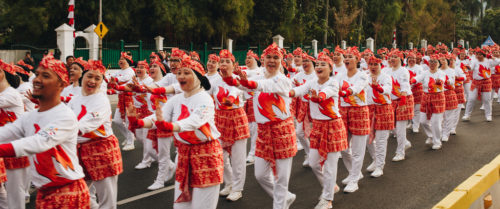 To build excitement before the games, Indonesia is trying to show off things that are special about the country. Indonesia has a special line dance called the poco-poco. On Sunday, Indonesia tried to set a world record by getting tens of thousands of people to dance the poco-poco at the same time.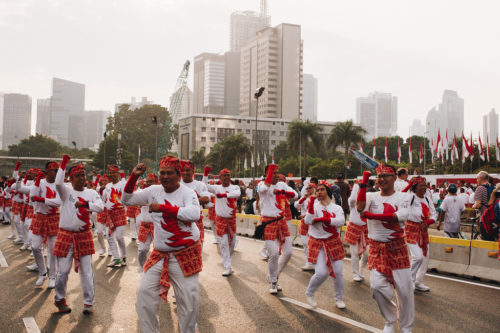 Over 65,000 people, including Indonesia's president, Joko Widodo, joined the dance in Jakarta. Many others danced in other places. Newspapers said that around 120,000 people in jail were dancing, too.
No one knows yet whether Indonesia set a record.
😕
This map has not been loaded because of your cookie choices. To view the content, you can accept 'Non-necessary' cookies.