Como, Italy —(Map)
Workers in Como, Italy, who were busy tearing down an old theater, found a surprise waiting for them in the basement. A 1,500 year old stone jar full of gold coins.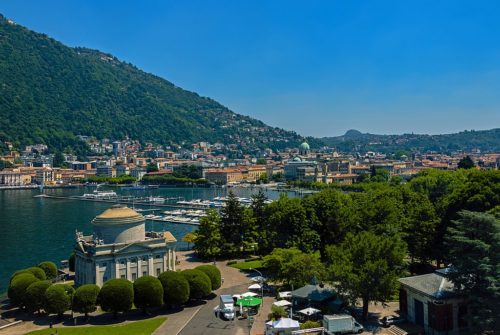 Como, a city in northern Italy, near Switzerland, has a long history. The city's center and street layout was decided by Julius Caesar. Over 1,500 years ago, there was an important Roman market area there called "Novum Comum". Many of the buildings that exist in Como today were built on top of places where buildings used to exist long, long ago.
In 1870, the Cressoni Theater opened as a place where operas could be performed. In 1913, it was turned into a movie theater. Finally, in 1997, the theater shut down for good.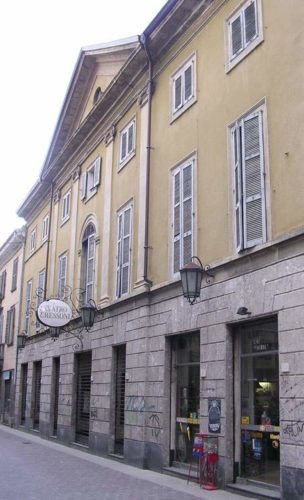 Earlier this year, a company began tearing down the inside of the Cressoni Theater. Workers left the outside walls up, but tore out everything inside. The company plans to turn the building into apartments.
On September 5, workers in the basement of the Cressoni found a stone jar with two handles. Inside the jar were lots of gold coins.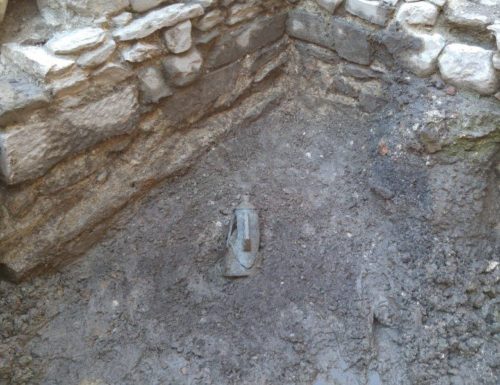 Special scientists, called "archeologists", were called in. Archeologists study the past by looking at things left by people who lived long ago. The archeologists carefully removed the jar and took it to a laboratory in Milan. They will also keep looking in the Cressoni Theater to see if they can find anything else.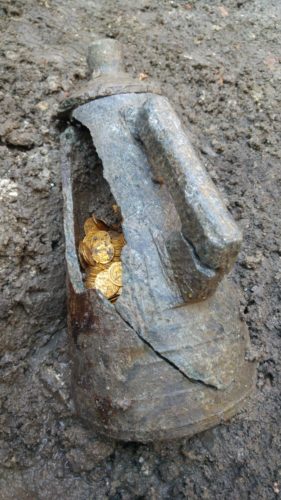 The jar was made of a soft kind of stone, called "soapstone". Inside the jar, were more than 300 Roman gold coins and a gold bar.
"It's practically an entire collection, unlike anything else ever found in northern Italy," said Luca Rinaldi, who is in charge of archeology in the area. "Sometimes coins that are found are stuck together but these are all separate, it was like opening a wallet."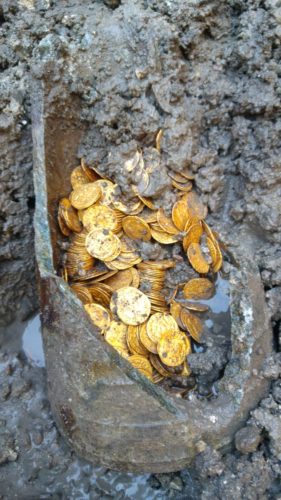 In the laboratory, the scientists will carefully clean and study the coins. But already they know that the coins are from the late Roman period. The coins were made under several different Roman leaders. All of the coins were created before the year A.D. 474.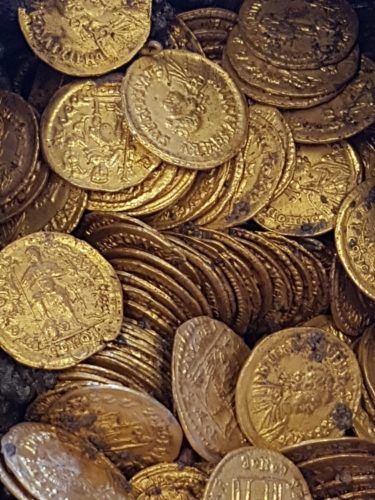 Maria Grazia Facchinetti is an expert in rare coins. She says the coins may have belonged to a bank or something like it. She said the coins were "buried in such a way that in case of danger they could go and retrieve (get) it". She said the coins "were stacked in rolls similar to those seen in the bank today."
Because the coins and the bar are made of gold, the treasure is clearly worth a lot of money. But the main value of the discovery lies in what it can teach us about the past.
😕
This map has not been loaded because of your cookie choices. To view the content, you can accept 'Non-necessary' cookies.