Hong Kong, China —(Map)
On Tuesday, China opened the world's longest sea bridge. The 34-mile (55-kilometer) bridge connects the Chinese mainland to two islands under Chinese control.
The new bridge was created to connect the city of Zhuhai on the Chinese mainland to the islands of Hong Kong and Macau and make transportation between the three easier.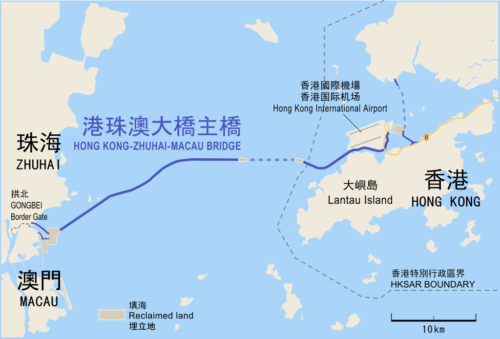 To cover such a large distance, two man-made islands were created. The crossing is a mixture of bridges with one 4.2 mile (6.7 kilometer) tunnel under the sea. The main section of the bridge is 14 miles (22.5 kilometers) long and is raised high enough for ships to pass under it. At its highest, the bridge is over 1500 feet (460 meters) high.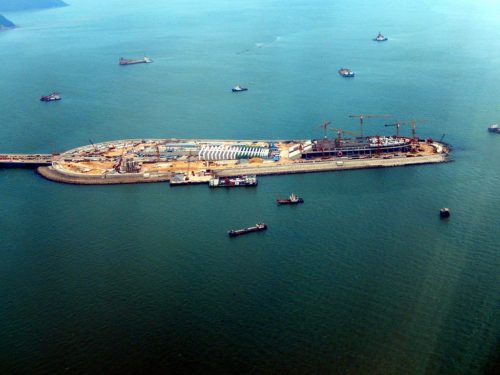 The bridge cost over $20 billion to build and has been under construction since 2009. It was supposed to open in 2016, but it was delayed several times. Ten people died during the building of the bridge, and another 275 were injured.
As the bridge was being built, there were several complaints that it was not being built safely. But the government says the bridge is strong enough to stand earthquakes and hurricane strength winds. There were also complaints that the construction disturbed the Chinese white dolphin, an animal that is in danger of dying out.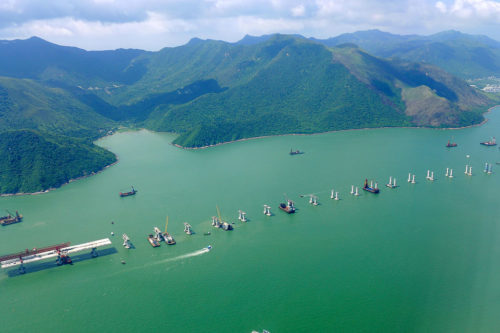 The government believes the new bridge will make it easier to travel in the area. It takes about 45 minutes to cross the bridge. That saves almost three hours compared to some other ways of traveling between the cities. The government thinks that the bridge will help people in the different areas work together and that this will help businesses grow.
Not everyone is excited about the bridge. Some people see it as a waste of money or a way for China to show off. Some people are worried that China will use it to try and control Hong Kong even more than it does now.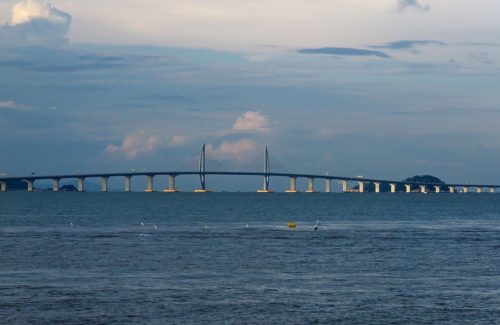 Others complain that the bridge can't be used by most people. In order to use the bridge, drivers will need a special permit. The bridge will be mainly used by trucks and by private companies, which will charge between $8 and $10 per trip for a ride on their buses. Public buses will not be able to use the bridge.
Drivers in China use the right side of the road and drivers in Hong Kong use the left. The bridge has special places where drivers stop to cross over to the other side of the road. The Guardian newspaper reports that the bridge will have cameras that will check if drivers are sleepy. If drivers yawn more than three times in 20 seconds, the camera will set off a warning.
😕
This map has not been loaded because of your cookie choices. To view the content, you can accept 'Non-necessary' cookies.