New York City, New York —(Map)
Would you pay thousands of dollars for a painting with a face so blurry you're not even sure it's a face? Or a picture by an unknown artist? What if the artist was a computer?
Three French students, using the name "Obvious", produced the first artwork created mainly by a computer program to be sold at auction.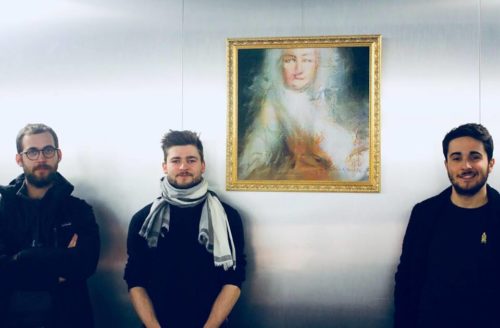 The work is a portrait (a picture of a person) printed on canvas. The portrait was created using "artificial intelligence" (AI). This means the computer program is not just following rules, but is making some decisions and "thinking for itself". Using this system, Obvious created 11 portraits of an imaginary family they called Belamy.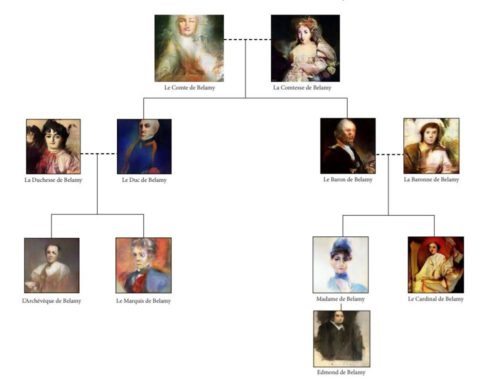 Obvious used 15,000 real portraits to train an AI program which has two parts. One part tries to create pictures that look real. The other part judges the work. If the portrait doesn't look real enough, the first part goes back and changes its decisions until it comes up with a better image. These decisions are controlled by an "algorithm" – the code the program uses to create the picture.
The students made many choices, helping guide the AI's decisions. But even so, the painting is "signed" by the algorithm, instead of the students.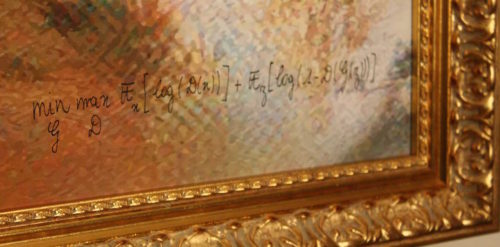 On October 25, Obvious's picture, Edmond de Belamy, was sold at auction at Christie's in New York. In an auction, people say how much they will pay for something. As people offer more money, the price goes up until someone offers a price no one else is willing to pay. The final price for Edmond de Belamy was $432,500 – about ten times more than Christie's expected.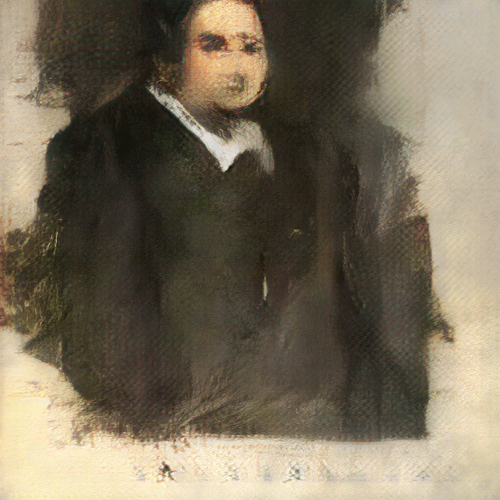 This is not the first AI artwork, just the first one sold at auction. In fact, many people are not impressed with the portrait. "The work isn't interesting, or original," says 19-year-old Robbie Barrat. He should know. He wrote much of the program that created the image.
But he doesn't like the idea of Obvious selling the picture. He thinks it's too simple and gives a bad idea of what real AI artists are doing. He points out that he created many pictures like these over a year ago.
left: the "AI generated" portrait Christie's is auctioning off right now

right: outputs from a neural network I trained and put online *over a year ago*.

Does anyone else care about this? Am I crazy for thinking that they really just used my network and are selling the results? pic.twitter.com/wAdSOe7gwz

— Robbie Barrat (@DrBeef_) October 25, 2018
Obvious doesn't hide the fact that it used Mr. Barrat's work. Or even that its portrait is not the best AI art ever. Pierre Fautrel of Obvious said, "…the goal of our project was to do something that was simple enough for…my mother or brother to understand."
Obvious got Christie's attention by selling another work, Le Comte de Belamy, for over $11,000 in February. One reason Christie's chose to auction Obvious's work is because AI art is unusual now. In the future it will be much more common.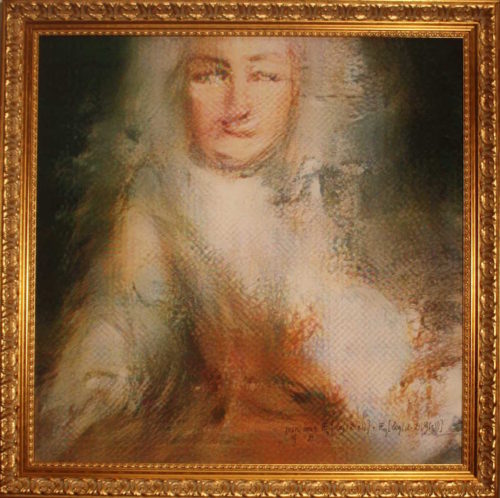 Still, people who don't like the idea of computers creating art shouldn't worry. People who work with AI art usually think of AI as a tool and not the artist. Also, as AI artist Theo Triantafyllidis puts it, even the best AI today "…is somewhere between a really clumsy child and a really smart pet."
😕
This map has not been loaded because of your cookie choices. To view the content, you can accept 'Non-necessary' cookies.