Brisbane, Australia —(Map)
Scientists at the University of Queensland in Australia may have discovered a new test for cancer. If it works, their discovery could allow doctors to test for cancer more quickly and perhaps find cancers earlier.
Cancer is a group of diseases which cause about 1/8 of all human deaths. Scientists and doctors have been studying and fighting cancer for years. They are making progress, but cancer is still hard to find and treat. People often talk about "cancer" as if it's one thing, but there are more than 100 kinds of cancer that affect humans.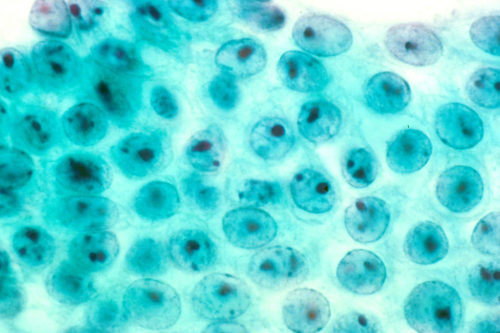 The human body is made up of cells, which are the "building blocks" of living things. Cancer is caused when cells get changed and grow out of control. Each cell has DNA in it – a set of chemical instructions that tells it how to grow. When the DNA gets damaged, it can change the cell into a cancer cell. The longer cancer cells are allowed to grow, the worse the problem can become.
But it is often hard for doctors to know for sure if someone has cancer. One common sign of cancer is a lump where many cancer cells have been growing. These lumps are not always easy to find. Sometimes doctors don't learn about them until it is too late. And lumps are not always a sign of cancer. People can have lumps that have no effect on their health.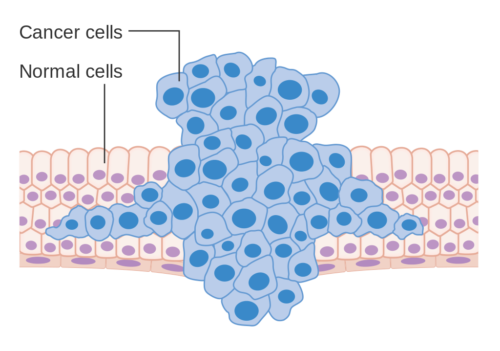 To find out for sure if someone has cancer, doctors often have to do a "biopsy". In a biopsy, doctors take a small sample from the area that they want to check. Then they test the sample.
Biopsies are not easy, cheap, or fast. They often require surgery and they always require a laboratory. Since DNA in cancer cells is different than in healthy cells, often DNA testing is done. Tests can take a week or longer.
A quick & easy test to detect cancer from blood or biopsy tissue could eventually result in a new approach to diagnosis.

It's been developed by @AIBNatUQ researchers who've discovered a unique DNA nanostructure that appears to be common to all cancers.https://t.co/l2i6OC6RAj pic.twitter.com/Ia4MkLjVTb

— UQ News (@UQ_News) December 7, 2018
The new test discovered by the scientists in Australia may help prevent unneeded biopsies.
The scientists realized that when the DNA from cancer cells was put into some chemicals, it folded in a special way. The way that the DNA folded made it stick to tiny metal bits in a different way than healthy DNA.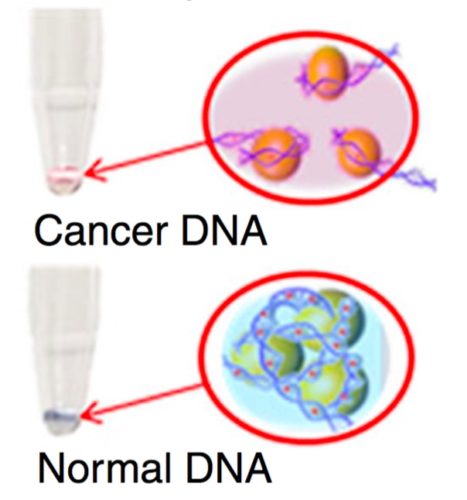 This allowed the scientists to create a fairly simple test. They mixed very tiny bits of gold into some water. This turned the water pink. If scientists add DNA from cancer cells, the water stays the same color. But healthy DNA changes the water's color to blue. The tests seem to work 90% of the time.
Gold is not cheap, but the pieces used are tiny – less than one ten-millionth of a meter long. The test will probably be much cheaper than doing biopsies and DNA tests.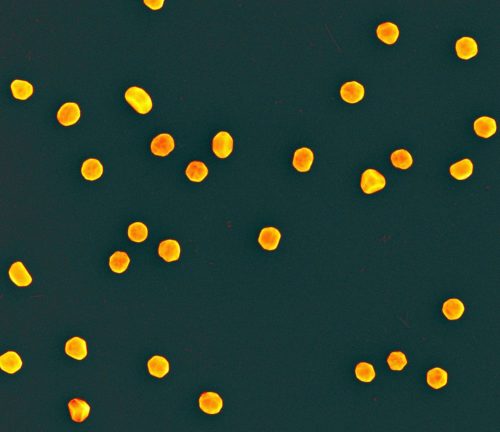 This is not a cure for cancer, and it's not even certain yet that this test will work well in general. It needs to be tested much more. But if it works, it could make it much easier, faster, and cheaper for doctors to test for cancer. And that will be a huge step forward.
😕
This map has not been loaded because of your cookie choices. To view the content, you can accept 'Non-necessary' cookies.