December 10th is Human Rights Day. This year, the day marked 70 years since the nations of the world agreed to set out, for the first time, a list of rights belonging to everyone in the world.
A "right" is something that a person should be allowed to do or to have – something that no one else should be able to take away. Some people may think that rights are clear and everyone agrees on them. That's not true.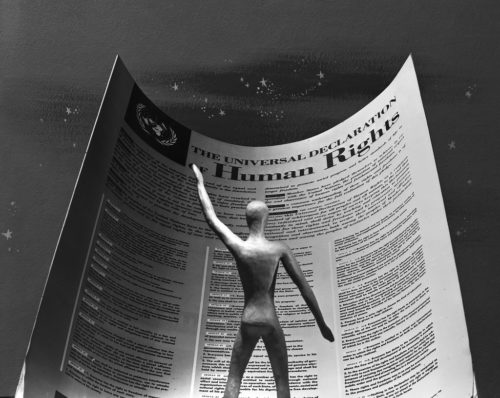 During World War II, terrible things happened to people in many parts of the world. People were put in prison without a reason. Many people were tortured. And millions were killed simply for being the "wrong" kind of people.
After those terrible events, most people wanted to prevent such things from ever happening again. Eleanor Roosevelt led the effort in the United Nations to get the world's countries to agree on a list of rights to protect people. Mrs. Roosevelt had been the wife of President Franklin D. Roosevelt, who died near the end of World War II.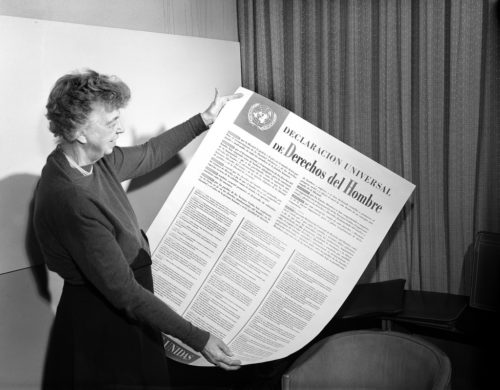 Mrs. Roosevelt's work led to a list of rights for all people – the Universal Declaration of Human Rights (UDHR).
In all, the UDHR has 30 points. The list begins by saying that everyone is free and equal and has the same rights. Then it explains the rights. Here is a short version of some of the rights.
All people have the right to…

• Live freely and safely.
• Not be tortured and not be a slave.
• Not be put in jail without a reason and a fair trial.
• Be able to travel, and to ask to be protected in another country, if needed.
• Be able to work and get paid the same for doing the same work.
• Be able to get married, but not be forced to marry.
• Be able to get food, clothing, housing, and medical care.
• Be able to go to school.
• Choose their own religion, and to think and say what they want to.
• Vote and take part in government.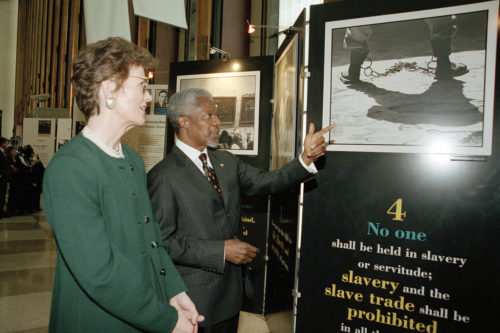 Not everyone liked the UDHR. Some countries didn't like it because they knew they were breaking the agreement. Others didn't support it because their religion did not give the same rights to women as men. Even in places that supported it, many people didn't agree that everyone should have these rights.
But in 1948, 48 countries agreed to the UDHR. Eight countries chose to say nothing instead of fighting it. The UDHR passed.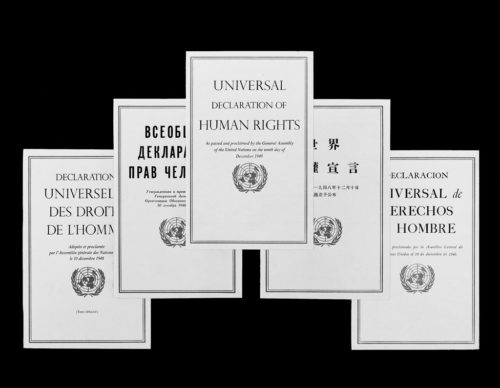 Now, 70 years later, the UDHR is as important as ever. No country fully meets the UDHR. Not all people are treated equally, people are jailed without a reason, there is torture, and in parts of the world, there are still slaves.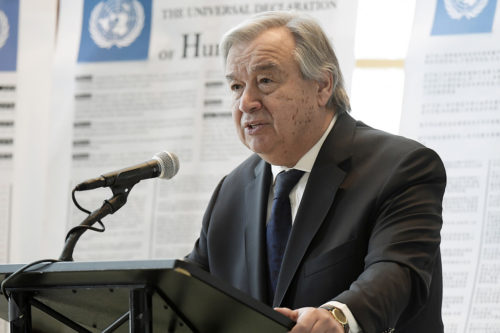 Clearly, the UDHR still has work to do – guiding people and governments around the world in the way things ought to be. It's not a law. It's a statement about what's right.
Most countries are much better about human rights now than they were in 1948. You can thank the UDHR for that.