Pandeglang, Indonesia —(Map)
Beach areas on Java and Sumatra in Indonesia were hit by a strong and unexpected tsunami on Saturday night. The tsunami came quickly and without warning, killing at least 370 people and injuring close to 1,500.
Tsunamis are long, powerful, high waves often caused by earthquakes. In this case, however, the tsunami seems to have been caused by a landslide, most likely underwater.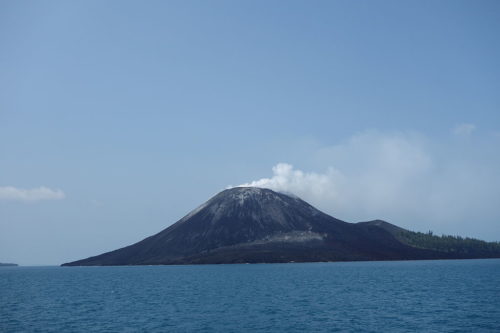 A nearby volcano, Anak Krakatau, erupted about a half an hour before the tsunami. Anak Krakatau has been erupting off and on since last June. Many people think that the volcano caused a landslide which created the tsunami. The area was already having high tidal waves, caused by the full moon.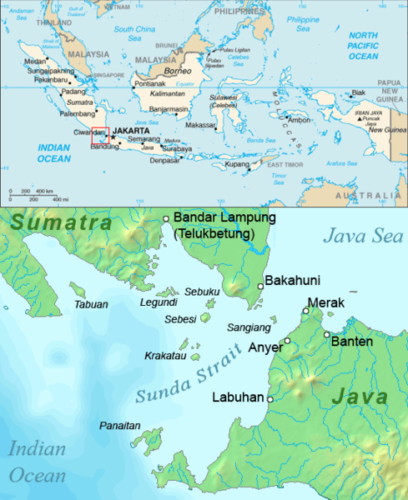 Indonesia has an early warning system that can warn people of a possible tsunami, but this warning system only works for earthquakes, and it does not always work well for those. Since this tsunami seems to have been caused by landslides, there was no warning. That is part of what made it so deadly.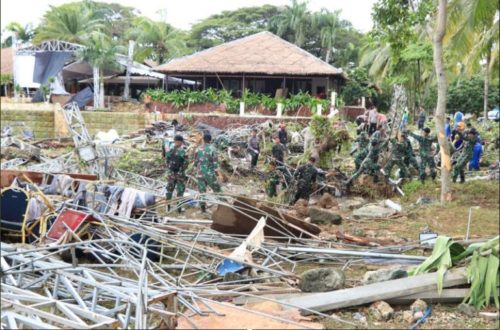 Crowds of people were relaxing on beaches on the islands of Java and Sumatra. There was no time for people to get out of the way of the water. Some news sites have posted a video which shows a band in the middle of playing a song when they are suddenly swept away by the water.
A person speaking for the Indonesian government has said that close to 600 homes, nine hotels, and around 60 small shops had been damaged by the tsunami. Some experts have said that the tsunami was not very high, but that problems were made much worse because buildings and houses had been built too close to the shore.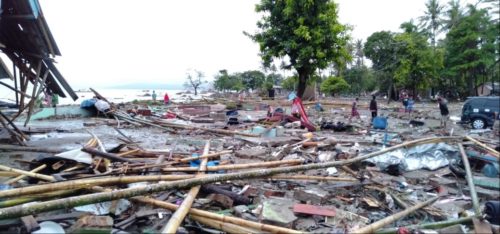 The government has sent the army and others to help in the areas affected by the tsunami. The Red Cross is also in the area and is delivering emergency supplies to people who are affected. On Monday morning, President Joko Widodo visited the area.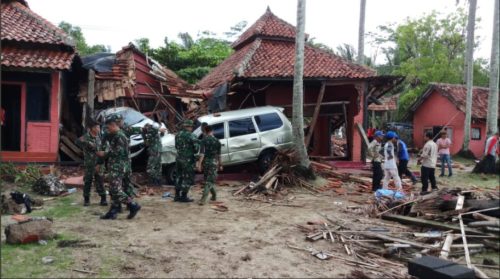 Indonesia is in an area called the "Ring of Fire". This is a large area in Asia where earthquakes and volcanoes are common. Because Indonesia is a nation of islands surrounded by water, tsunamis are also common.
This has been a very hard year for natural disasters in Indonesia. In July, an earthquake killed around 500 people. In September, another earthquake caused a tsunami that killed close to 2,500.
😕
This map has not been loaded because of your cookie choices. To view the content, you can accept 'Non-necessary' cookies.