Scottsdale, Arizona —(Map)
Grocery stores are testing different ways of delivering orders using self-driving cars. Companies are experimenting more as self-driving cars get better and the pressure from online stores like Amazon gets stronger.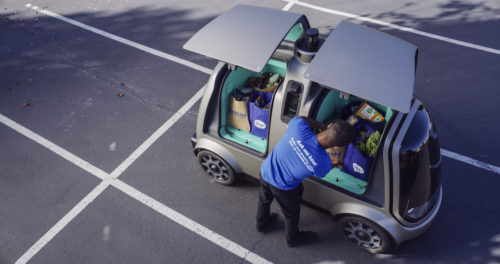 Many companies are working on self-driving vehicles like cars and trucks. These vehicles are driven by computers rather than people. Almost all self-driving cars still carry a "safety driver" who can take over if there is trouble. But some companies are testing "fully autonomous" vehicles – this means there is no driver in the car.
Waymo and many other companies use self-driving vehicles to move people around. But moving people is dangerous. Self-driving experiments with things like groceries or packages are much safer. That's why many stores are now running tests to see how these vehicles can help their businesses.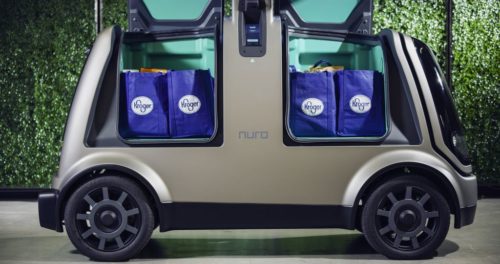 Kroger is the largest grocery store chain in the US. In December, Kroger began delivering groceries in Scottsdale, Arizona using fully autonomous vehicles. The company is teaming up with a company called Nuro for its delivery service.
Nuro has created a special car just for deliveries. The car is called R1. The R1 is smaller than most cars and doesn't weigh as much. There is not even space for a driver in the car. Kroger is offering the service at a smaller chain of grocery stores it owns, called Fry's.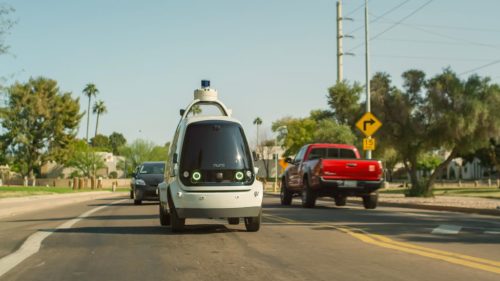 Walmart, in many ways the largest company in the world, is also experimenting with self-driving deliveries. In the fall of 2018, the company worked with the car-maker Ford on a program in Florida that allowed customers to have their groceries delivered by self-driving car.
Later this month, Walmart will start another test of self-driving delivery vehicles in Arizona. The company is working with Baidu, a Chinese technology company, and Udelv, a self-driving delivery service. Baidu runs China's largest search website (like Google) and created the self-driving system that runs Udelv's cars. Baidu has done a lot of work in artificial intelligence – teaching computers to learn and make decisions on their own.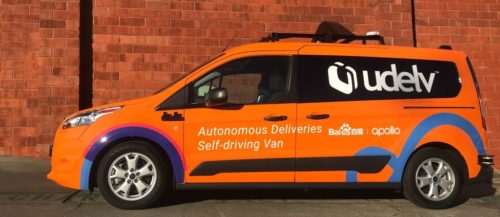 Stores like Kroger and Walmart are very interested in figuring out ways to easily deliver items to customers. One big reason is the pressure they feel from the huge Internet store, Amazon.
Before the Internet, almost all stores were "brick and mortar" stores – real stores you could actually go to. That was where people shopped. But now, over half of the shoppers in the US say they start their shopping on Amazon's website. This has taken away huge amounts of business from brick and mortar stores.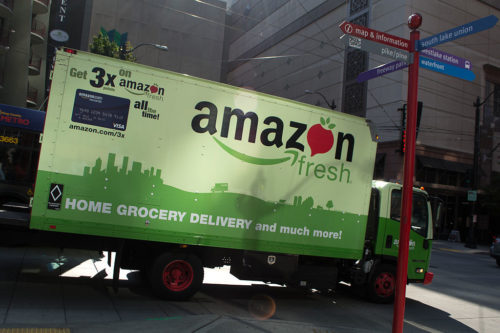 Amazon has had a grocery delivery service in some areas for years. Things got even more serious for grocery stores after Amazon bought the US grocery chain Whole Foods.
Amazon has gotten big by making it easy for customers to buy things without ever leaving their homes. Now brick and mortar stores are hoping that by making online orders and deliveries quick and easy, they can win back customers who might otherwise use Amazon.
😕
This map has not been loaded because of your cookie choices. To view the content, you can accept 'Non-necessary' cookies.