Midland, Michigan —(Map)
After days of heavy rains, high waters have caused two dams to collapse in central Michigan. The waters released by the dams have flooded Midland, and forced around 11,000 people to leave their homes.
The National Weather Service (NWS) reported that the Tittabawassee River was at least 10 feet (3 meters) above flood level, and still rising. Under the growing pressure of the water, the Edenville dam and the Sanford dam broke. The dams are about 140 miles northwest of Detroit.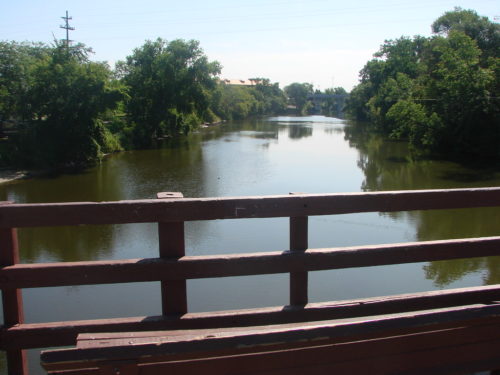 The flooding has covered many roads and bridges in Midland County. For safety, people in the nearby towns of Edenville, Sanford, and Midland were evacuated. Governor Gretchen Whitmer has declared a state of emergency.
The Michigan National Guard helped in moving people from their homes. The process was made more complicated by the coronavirus pandemic, since people needed to be wearing masks and remain at a safe distance.
In all, around 11,000 people have been evacuated from Midland, and areas nearby. The NWS said that parts of Midland could be under as much as 9 feet (2.7 meters) of water by night.
Midland is home to the Dow chemical company, which raises other worries. The company has large chemical tanks in Midland which, if flooded, could release dangerous chemicals into the river.
It's also possible that the flood could stir up old pollution.

For decades, Dow released dangerous chemical pollution into the Tittabawassee River. As a result, there is an area farther downstream that is heavily polluted. The chemicals there have settled into the mud on the river bottom and in the areas along the river. The area was supposed to be cleaned up next year.
Now there are concerns that the strong flood waters could stir up the dangerous chemicals, and release them back into the river. The chemicals could then be carried anywhere the floodwaters go. This could cause serious problems, and would make any cleanup far more difficult.