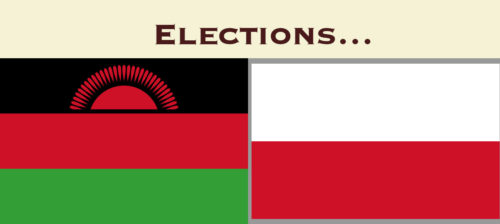 Chakwera Sworn In After Winning Malawi Rerun Election
On Sunday, Lazarus Chakwera became Malawi's sixth president after winning a historic rerun election. The second election was ordered by a court after serious questions were raised about the fairness of Malawi's May 2019 election.
In the election held last May, Mr. Chakwera came in second with 35% of the vote, compared to 38.6% reported for Peter Mutharika, who was president at the time.
Complaints over the election led to months of protests – something that is fairly unusual in Malawi. Some of the protests even turned deadly.
In February of this year, Malawi's Constitutional Court found serious widespread problems with last May's election, and ordered a new election.
In the rerun election, held last Tuesday, Mr. Chakwera won 58.57% of the vote. It's the first time that a second election ordered by a court has resulted in a new president in Africa.
Mr. Mutharika said the rerun election was "the worst in Malawi's history" but he appeared to accept the results. He encouraged the country to "move on peacefully".
Mr. Chakwera said that his victory was "…not for one man, not for one woman, not for one party, not for one group, but for all of us together. That is how we will fulfill the dream of a new Malawi that will be for everyone."
Several groups were observing the elections. The Malawi Human Right Commission (HRC), which was one of those groups, reports that the election was peaceful and transparent (carried out in a way that let the observers make sure it was fair).
Mr. Chakwera, who is 65, was sworn in and began his 5-year term on Sunday.
Poland Vote Is Suddenly Close, Leading to Runoff Election
Poland's presidential election on Sunday was close enough that a second election will be held between the top two candidates. The election was originally planned for early May, but was delayed because of the coronavirus.
In May, the country's current president, Andrzej Duda, appeared to have a clear lead and was expected to win. But things have grown much tighter since then. That's mainly because of the pressure from Warsaw Mayor Rafał Trzaskowski.
Mr. Duda and his Law and Justice party (PiS) have been in power since 2015. Their attempts to interfere with Poland's courts have caused concern in the European Union. Mr. Duda and his party have also worked hard to limit rights for homosexuals.
Mr. Trzaskowski is a popular mayor who has promised to try to bring the country back together.
Interest in the election was high. In spite of the coronavirus, around 48% of Poland's voters turned out – far higher than the 34% that came out in 2015.
Currently, Mr. Duda has about 42% of the vote, and Mr. Trzaskowski has around 30%. Though all the votes have not yet been counted, it appears that no one will get more than 50% of the vote. That means a runoff election will be held between the two men on July 12.
There were 11 candidates in Sunday's election. Many people believe that a runoff election with only these two candidates will be much closer.