Heavy rains brought by monsoons are causing massive flooding across South Asia. Hundreds of thousands of people have been forced from their homes in Bangladesh, India, Nepal, Indonesia, China, and other countries.
South Asia gets monsoons from June to September every year. Monsoons are winds that bring lots of rain when they move over warm land from cooler oceans. The winds, and the rain they bring can last for months.
Monsoons are an expected and important part of the water cycle in South Asia. Yet they often cause problems when the rains they bring are especially heavy or sudden. Nepal, India and other countries have suffered greatly in recent years as monsoons have brought cyclones and massive flooding.
The seriousness of this year's floods are worrying, since this is only the start of the monsoon season. For the thousands who have been left homeless, it will be challenging to face the heavy rains for the rest of the monsoon season.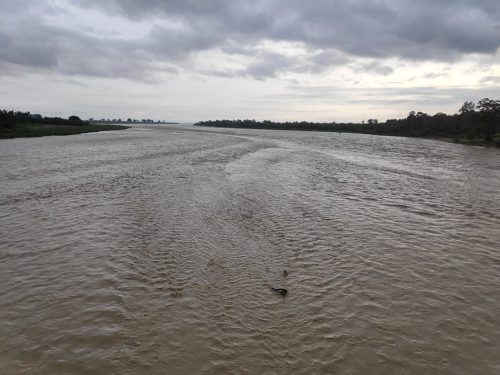 Even relief shelters carry their own dangers. With little access to clean water, it's easy for diseases to spread. That's true even in normal times, but it's especially worrying during the coronavirus pandemic.
Bangladesh
In Bangladesh, the flooding is the worst in decades. The flooding started in late June, and is expected to continue. The floods are affecting over 1.3 million people, forcing the government to open over a thousand shelters.
About 1/3 of the country is under water, and more than 280,000 are stuck in the middle of flooded regions.
India
India has been hit hard by floods, especially in the east and northeast. More than 10 million people have been affected in the states of Bihar and Assam, where at least 77 people have died.
Over 265,000 people have been forced from their homes in the two states. More than 900 relief shelters have been set up to take care of the homeless temporarily.
Nepal
In Nepal, at least 88 people were killed, and around 17,000 people were forced to move to temporary relief camps because of the flooding. Many of these people are now returning to their villages to find out what condition their homes are in.
Indonesia
Indonesia's South Sulawesi province was hit with a powerful flash flood after heavy rains cause three rivers to overflow. Flood waters carried thick mud with it, covering houses and roads, and making rescue efforts difficult.
Over 2,500 people were forced to leave their homes, and at least 21 people have died. Dealing with the disaster is especially tricky in Indonesia, which has one of the worst outbreaks of coronavirus in Asia.
China
Long-term, heavy rains since early June have caused widespread flooding in China, forcing over 76,000 people from their homes, and killing over 140. Around 29,000 homes have been destroyed.
The flooding affects 29 provinces in China. At least 33 rivers have flooded and hundreds more are at or above their safety limits. The Yangtze Basin, near Wuhan, has recorded its highest average rainfall in nearly 80 years.
---
Did You Know…?
Northern Asia is having its share of rain, too.
Last week, central Japan was hit by the country's heaviest rain in several decades. In some areas, 31.5 inches (800 millimeters) of rain fell in just one week. The resulting floods caused landslides, and damaged homes, roads, and bridges, forcing 220,000 from their homes, and killing at least 63 people.