Thirty years ago, the Americans with Disabilities Act (ADA) became a law in the United States. The law has had a strong effect, forcing changes in almost every area of American life. But there's still room for improvement.
On July 26, 1990, President George H. W. Bush signed the ADA. The law made it clear that people with disabilities – physical or mental conditions that limit them in some way – should have equal opportunities to enjoy their lives.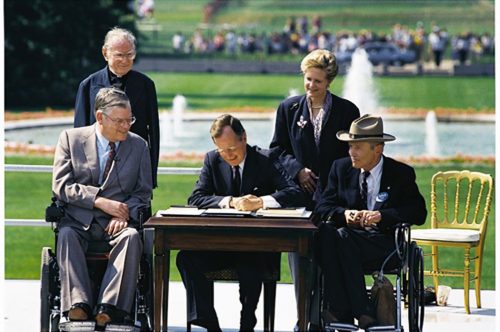 Before the ADA passed, people with disabilities were shut out of many important activities.
Ramps weren't common. People in wheelchairs couldn't ride public transportation. The curbs at the edges of streets weren't cut away to allow wheelchairs to pass easily. There were very few signs written in Braille for people who couldn't see.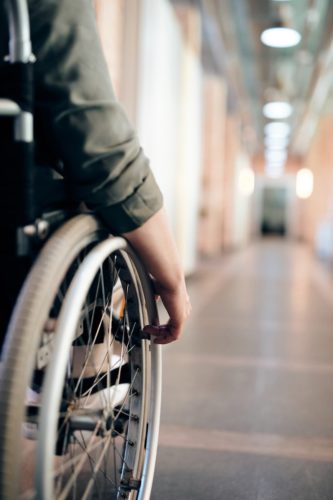 Getting the ADA passed wasn't easy. People fought for years to pass a law protecting the rights of disabled people.
One event that drew attention to the problem was called the "Capitol Crawl". In March of 1990, dozens of disabled people left behind their crutches and wheelchairs and began to crawl up the 100 steps leading to the US Capitol building, where there was no ramp.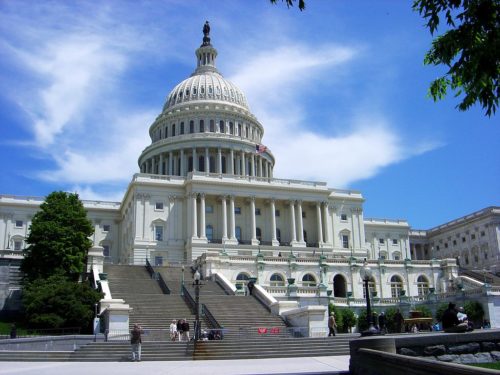 The ADA forced huge changes in public life to make places and programs "accessible" (able to be used) by people with disabilities. This included government programs, education, public transportation, stores, and restaurants. The law also covered communications, like TV and phone service.
The ADA made it easier for disabled people to find work. It required larger businesses to consider hiring people with disabilities, and be willing to make small changes to help them work successfully.
😕
This image has not been loaded because of your cookie choices. To view the content, you can accept 'Non-necessary' cookies.
Today, you can't go far in the US without seeing the results of the ADA. From ramps and elevators to special signs and audiobooks, the changes have pushed into every corner of life.
Many changes meant for people with disabilities have also helped others. The "curb cuts" that allow wheelchairs to pass on sidewalks also help people making deliveries or pushing carts and strollers. The captions at the bottom of TV shows describing what's happening are used by many people who aren't deaf.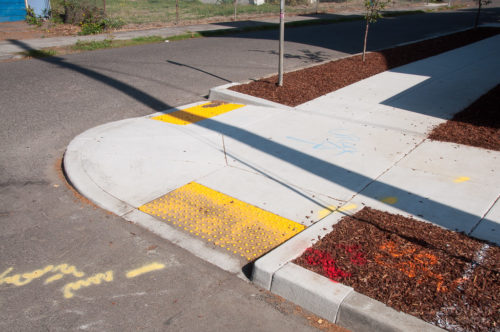 But even though the ADA improved life for people with disabilities, there are still many challenges. Not every building and program has been changed so that everyone can use them.
Sometimes people question whether a disabled person is really disabled. This is especially common with disabilities which can't be easily seen.
😕
This image has not been loaded because of your cookie choices. To view the content, you can accept 'Non-necessary' cookies.
Disabled people are often treated differently, and aren't always offered the chances that others get. The US government reports that among disabled people between the ages of 16 and 64, only 31% had jobs last year. For people without disabilities, the number was 75%.
But the ADA hasn't just changed buildings and programs. It's also changed what people expect. With the support of the ADA behind them, people with disabilities are now much better able to push for changes when they are needed, opening up opportunities for those who come after them.
---
Did You Know…?
The coronavirus
pandemic
has been especially difficult for people with disabilities. The virus has shown that there are still many limits to the US system.
Some disabled people who can't drive have been unable to get tested for the coronavirus. Many others, who rely on special helpers in their daily lives, have struggled without the regular help they are used to.