California —(Map)
California is battling hundreds of wildfires caused by lightning strikes, and is asking nearby states for help. Already the state has lost more area to wildfires this year than it did in all of 2019.
For nearly two weeks, California has been dealing with a severe heat wave. In the middle of the dry conditions brought by the heat wave, California was hit by a highly unusual series of lightning strikes.
Over three days, the state was struck by nearly 11,000 bolts of lightning, starting 367 wildfires. Normally California only gets about 85,000 lightning strikes all year long.
In one week, the state has had nearly 600 wildfires which have burned a total area of about 1,562 square miles (4,046 square kilometers). The fires have destroyed over 700 homes and other buildings, and forced over 175,000 people to leave their homes. At least five people have died.
Many of the fires were small and firefighters were able to put them out. But in many cases, smaller fires have grown together into a much larger group of fires, sometimes called a "complex". Firefighters still have not been able to control many of these larger fires.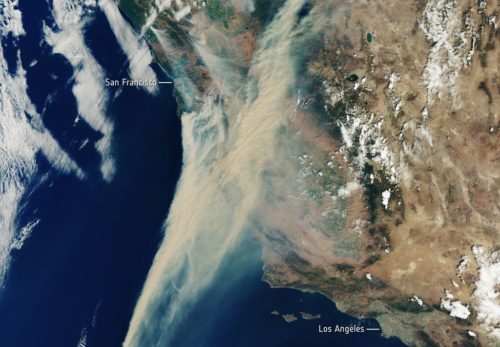 The largest group of fires is known as the LNU Lightning Complex, made of about 250 fires spread across five counties. LNU covers over 472 square miles (1,224 square kilometers).
The SCU Lightning Complex is made up of about 20 fires and has spread across 430 square miles (1,113 square kilometers). Though it's large, it's farther from areas where many people live than some of the other fires. These two groups of fires are the second and third largest fires anytime in California's recent history.
California's governor, Gavin Newsom, has declared a state of emergency. Around 12,000 firefighters have been tackling the fires. But the strength and number of the fires is making that battle difficult. California says it's already using 96% of its fire engines.
The state has asked for help and equipment from nearby states, and even as far away as Canada and Australia. At least 10 states have begun to send firefighters and special aircraft for fighting fires, but the challenge is still a huge one.
The massive amount of smoke created by the wildfires has raised pollution to unsafe levels. On Thursday, the Air Quality Index in some areas of California was reported as "very unhealthy".
There are concerns about how the smoke might affect people who have the coronavirus, since the virus has serious effects on the lungs.
The coronavirus brings its own concerns for people who are forced to leave their homes. Because of the virus, many people aren't eager to go to an emergency shelter. Some people have been sleeping in their cars, instead of going to a shelter, in order to avoid the risk of catching the virus
On Saturday, US President Donald Trump cleared the way for the state to get some disaster support from the US government. The aid will mainly go to help people affected by the fires.
---
Did You Know…?
Last week in California's Death Valley National Park, temperatures reached 130º Fahrenheit (54.4º Celsius). That may have set a record for the hottest temperature on Earth – at least since 1913, and possibly, ever.
Making things more difficult, California's heat wave has also caused an energy shortage, as people try to keep cool. To save energy, some power companies are cutting off power for hundreds of thousands of people for a couple of hours a day. These are known as "rolling blackouts".