Today, NFK takes a look at two recent country-wide plans relating to food.
UK's "Better Health" Program
Last month, United Kingdom (UK) Prime Minister Boris Johnson started a "Better Health" program, to encourage people to lose weight. Studies show that roughly two-thirds of the adults in England are overweight or obese, and that one in three children are overweight.
Being overweight can lead to many other health problems. UK Health Secretary Matt Hancock says if people lose weight, it will cut government health care costs. He also notes that because of "the link between obesity and coronavirus, losing weight could be lifesaving."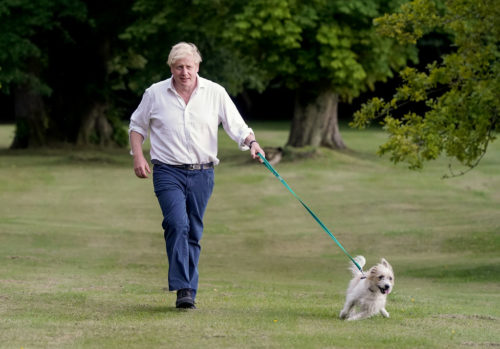 Mr. Johnson certainly knows how being overweight can cause problems. Mr. Johnson was overweight when he caught the coronavirus in April. He became so sick that he had to stay in the hospital. Mr. Johnson believes his weight made his illness worse. He has since lost 14 pounds (6.4 kilograms).
To discourage people from buying junk food, ads for foods that have a lot of fat, sugar, or salt won't be allowed on TV or online until after 9 pm. This is to keep kids from seeing ads for unhealthy foods.
Restaurants are being encouraged to add health information to their menus to make it easier for people to make healthy choices.
The government says that now is a good time for people to change their habits, since their normal routines have been broken by the pandemic. But there's also concern that the coronavirus has left many people feeling stressed, worried, or even bored, causing them to eat even more junk food than usual.
Some people question how serious the government is. Last week Mr. Hancock said that he was closing Public Health England – the government agency in charge of the Better Health program.
China's "Empty Plate" Program
China's leader, Xi Jinping, has begun an "Empty Plate" program, asking Chinese people to stop wasting food. He says the amount of food thrown away in China is "shocking".
One study showed that China throws away over 34 billion pounds (15.4 billion kilograms) of food each year. That amount of food could feed up to 50 million people for a year.
In China, it's often seen as polite to order more food than you actually need, especially if you're ordering for a group. If all the food gets eaten, it looks like you didn't order enough to feed your guests.
China isn't running out of food, but making sure there's enough food for China's 1.4 billion people isn't always easy. The coronavirus pandemic has caused problems for farmers worldwide. China has also lost large amounts of crops this year because of serious floods.
China's government doesn't want to have to depend on other countries for food. Currently, China has serious disagreements with several large countries around the world, making it less certain that China will be able to buy food from these countries.
People have reacted to Mr. Xi's plan in different ways. Many people support the idea. Others feel like they should be able to do what they want with the food that they buy.
---
Did You Know…?
Since people usually share food during a meal in China, some restaurants in Wuhan are asking their customers to order one less meal than the number of people in the group. One restaurant in Changsha, China asked customers to weigh themselves on a scale before they entered the restaurant. After many customers complained online, the restaurant apologized.
(Front page image is based on work by: Paul Shaw LBIPP/MOD [OGL v1.0], via Wikimedia Commons.)