Cameron, Louisiana —(Map)
Hurricane Laura hit Louisiana on Thursday with strong winds and heavy rains. It's the strongest hurricane to hit Louisiana in over 150 years, and has left behind widespread damage. Laura is now weaker, but is still causing damage as it moves on.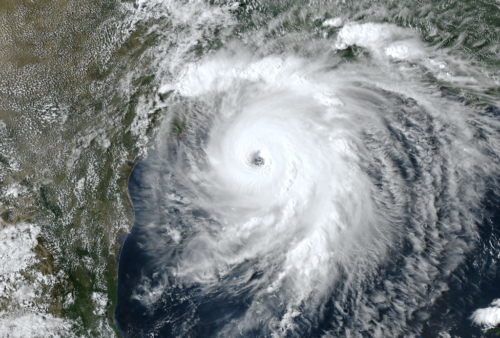 Hurricanes are strong storms with fast, spinning winds that form over oceans. In a hurricane, the winds spin in a circle toward the center, which is lower in pressure. As the hurricane moves across the sea, it collects water into huge spinning clouds. The water is released as rain as the hurricane hits land.
Experts have been tracking Laura since mid-August. It moved through the Caribbean as a tropical storm. Tropical storms are like hurricanes, but with slower winds. Still, the storm was strong enough to kill 25 people as it moved across Haiti and the Dominican Republic.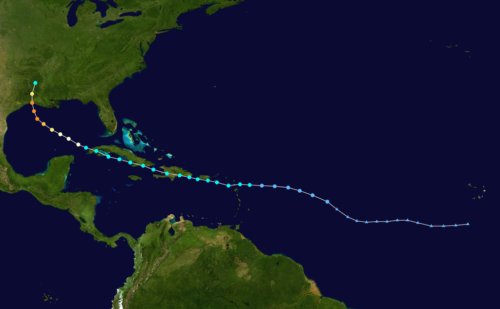 As it came closer to the coast of Louisiana on Wednesday, Laura gathered strength, becoming a Category 4 Hurricane – the second strongest possible. Over 500,000 people along the coast were told they needed to leave their homes.
Weather experts had predicted a massive storm surge up to 20 feet (6 meters) in height. Storm surge is a huge and sudden rise in the sea level that can push walls of seawater in from the shore for miles. Storm surges cause flooding, ruining houses and crops, and making roads unusable.
Hurricane Laura made landfall in Cameron, Louisiana early in the morning on Thursday. With winds blowing at 150 miles per hour (240 kilometers per hour), it was Louisiana's strongest hurricane since 1856.
After hitting land, Laura moved slowly north, bringing heavy rains and flooding, and leaving a path of wrecked homes and buildings behind. All through the state, trees were knocked down, damaging houses and taking out power lines.
For over nine hours, Laura's winds remained at hurricane speeds. Almost no area of Louisiana escaped, since the hurricane was large enough to cover nearly the whole state. Parts of eastern Texas were also affected.
Luckily, the storm surge was not as large as predicted, though it still reached heights of up to 10 feet (3 meters). Over 880,000 people were left without power, and up to 100,000 people have been left without drinking water. At least four people have died.
In Westlake, Louisiana, a fire started at a chemical factory that was hit by the hurricane. The factory makes chlorine for swimming pools. Since chlorine is a dangerous chemical, people in the area have been told to keep their doors and windows closed, and to turn off their air conditioning.
By Thursday afternoon, Laura had weakened back into a tropical storm, with winds of about 50 miles per hour (85 kilometers per hour). As the storm moved into Arkansas, it continued to knock down trees and bring flash floods, dropping up to 8 inches (20 centimeters) of rain.
From Arkansas, the storm is expected to weaken further as it turns East, bringing heavy rains and wind to Kentucky, West Virginia, and Virginia.