Nazca Desert, Peru —(Map)
Peru's Ministry of Culture says archeologists have recently discovered a massive cat drawn into a hillside over 2,000 years ago. The site is near other Nazca Lines, but was faded by time, which made it hard to spot.
The Nazca Lines are a collection of huge lines and drawings made in the Nazca desert in Peru over 2,000 years ago. These massive figures are often called "geoglyphs".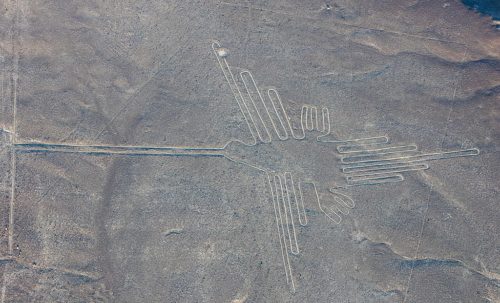 Between 2,500 years ago and 1,500 years ago, people in the area created hundreds of the lines. Most are simple lines or basic shapes. But about 70 of the geoglyphs are shaped like animals or people. Almost all are drawn with one unbroken line.
The lines for the drawings were made by removing the top layer of reddish rocks from the desert floor, leaving a brighter-colored area underneath.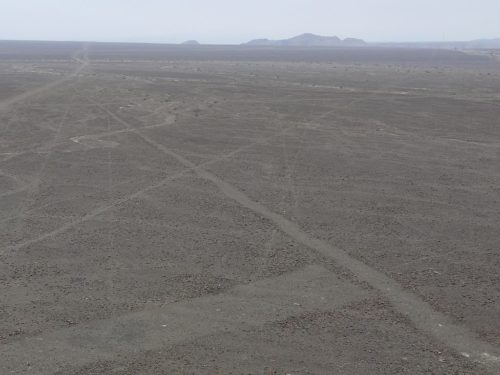 Most of the lines are about 4 to 12 inches (10 to 30 centimeters) deep, and between one and six feet (30 centimeters to 1.8 meters) wide. In all, there are about 800 miles (1,300 kilometers) of lines.
The lines and drawings are spread out over an area of 174 square miles (450 square kilometers). Some of the figures are extremely large. The "Monkey", for example, is 102 yards across and 63 yards up and down (93 meters by 58 meters).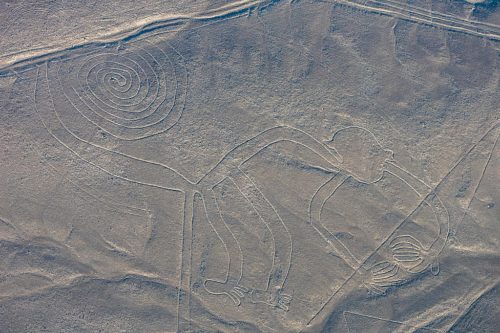 It's not clear why the Nazca lines were drawn, though people have come up with many different explanations since the lines were first discovered in 1927.
Many people believe the lines have something to do with the position of the sun, stars, and planets. Others think the shapes were drawn so they could be seen by gods in the sky.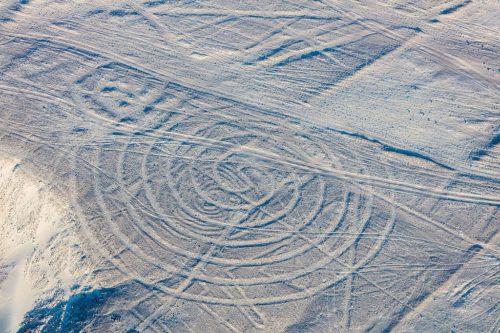 The newly found cat was on the side of a hill called Mirador Natural, which is usually used for looking out at the Nazca Lines. Archeologists discovered the drawing as they were doing other work on the hill.
Because the drawing is on a hill, it was more easily eroded over time than drawings on the desert floor. It's also older than most of the other drawings. Archeologists believe it's between 2,100 and 2,200 years old.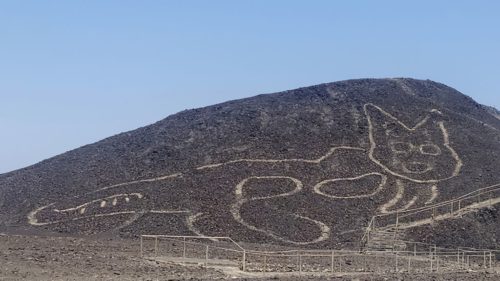 After they discovered the drawing, the archeologists carefully cleaned and restored the lines, so that the image can be seen easily.
Johny Isla, the archaeologist in charge of the Nazca lines for Peru, said, "It's quite striking that we're still finding new figures, but we also know that there are more to be found."
In recent years, drones have been used to discover even more geoglyphs, especially those on hillsides, like the cat. In 2019, a Japanese team discovered over 140 unknown geoglyphs using satellite images and other new methods, including Artificial Intelligence.
😕
This map has not been loaded because of your cookie choices. To view the content, you can accept 'Non-necessary' cookies.