Dubai, United Arab Emirates —(Map)
British artist Sacha Jafri has had an incredible year. In September, he set the record for creating the world's largest painting. Last week, the painting was sold for $62 million, which Mr. Jafri will give to charity.
Mr. Jafri is a 44-year-old artist from England. Last year, as the coronavirus spread and many countries went into lockdown, Mr. Jafri was in Dubai, United Arab Emirates.
Rather than feeling stuck because he was unable to move on, Mr. Jafri decided to take on a huge project that could "make a really big difference."
He decided to create the world's largest painting. And he wanted to do it in a way that would involve people from around the world. He asked children to send him pictures showing how they were feeling during the pandemic. He got artwork from kids in 140 different countries.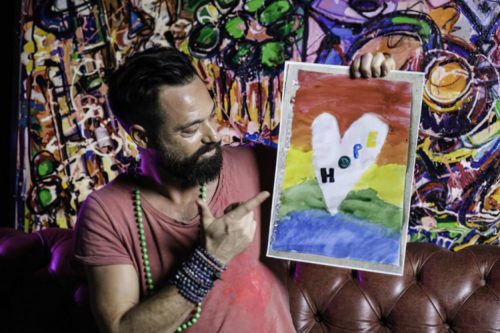 Using the children's ideas as a starting point, Mr. Jafri began to paint. He used a huge ballroom (a room for dancing) in a fancy hotel to do his painting. The hotel was closed because of the coronavirus.
The painting is massive – over 17,000 square feet (1,600 square meters). Mr. Jafri planned to cut it up into smaller pieces when he was finished, so he could sell them for charity.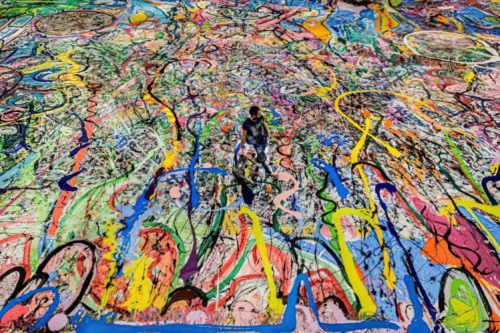 It took Mr. Jafri seven months to create the painting. He worked long hours – often up to 20 hours a day. He hurt his back by bending over so much while he painted. It took over 1,000 paintbrushes and 1,664 gallons (6,300 liters) of paint to create the painting.
Mr. Jafri hoped that his painting, called "The Journey of Humanity", would help bring the world together during a difficult time. He tried to keep the ideas from the children's pictures in his mind. He even included the children's drawings in the artwork.
When he finished last September, he had set a Guinness World Record for the world's largest painting. The painting was roughly the size of four basketball courts.
Since Mr. Jafri's goal was to raise money to help children, the painting was split up into 70 large sections. Mr. Jafri hoped that by selling the sections separately, he could raise $30 million.
But when the auction ended on March 22, Mr. Jafri did much better than that. And he didn't have to split up the pieces. The whole artwork was sold for $62 million. That's the fourth highest price ever paid for a painting by a living artist.
Andre Abdoune, a French businessman, bought all 70 of the canvases. "The painting was very powerful when I saw it," Mr. Abdoune said, "And for me, it would have been a mistake to separate the pieces."
Knowing that the money would go to charity also helped Mr. Abdoune decide to pay more. He says he was poor when he grew up, so he's glad to be helping children around the world by buying the giant painting. He plans to build a special building to show the artwork off.