Washington, DC —(Map)
Every day, someone from US President Joe Biden's team at the White House speaks to reporters and takes their questions on live TV. Last Wednesday, Karine Jean-Pierre became the first Black woman in 30 years to do that job.
Handling the daily White House press briefing is a stressful job. The person who takes it on is responsible for making sure that the president's beliefs and positions are clearly represented. They're also responsible for responding to lots of difficult questions. It's a high-pressure job, and one that is highly visible.
Last fall, Mr. Biden surprised some people by announcing an all-female press team. The press team is the group of people who deal with reporters for the White House. Jen Psaki is the White House press secretary, and so far, she's handled most of the White House press briefings.
Karine Jean-Pierre is the main deputy press secretary. The "deputy" part means that she steps in for Ms. Psaki when necessary. When Ms. Jean-Pierre handled the White House press briefing last Wednesday, she became the first Black woman to take on the job since 1991.
Ms. Jean-Pierre didn't get an especially easy day. There had been a violent shooting in the US, and Mr. Biden had called for an investigation into how the coronavirus started. That meant that there were many challenging questions. But Ms. Jean-Pierre handled them well.
One reporter also asked for her thoughts on how it felt to be making history. Ms. Jean-Pierre replied, "It's a real honor to be standing here today." But she added that working in the White House was never just about one person, but about working for the American people.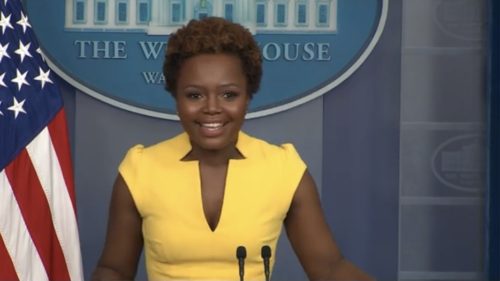 Ms. Jean-Pierre pointed out that Mr. Biden's government has more people from different backgrounds than any other government in US history. Ms. Jean-Pierre's parents were from Haiti, but she grew up in New York. She's also the first openly lesbian woman to handle a White House press briefing.
Many people believe that last Wednesday's press briefing may have been a test for Ms. Jean-Pierre. Ms. Psaki has made it clear that she only plans to remain as White House press secretary for about a year.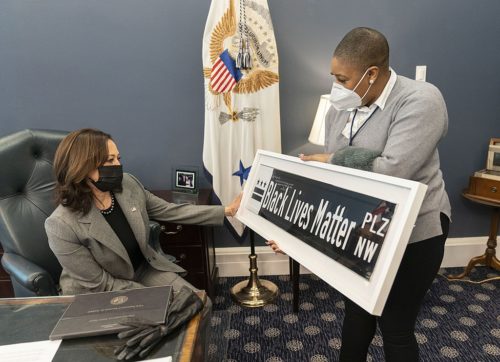 The White House may already be thinking about who could replace Ms. Psaki when she leaves. Another person who could possibly replace Ms. Psaki is Symone Sanders. She's the press secretary for Vice President Kamala Harris.
The first Black woman to run a White House press briefing was Judy Smith. She began working as deputy press secretary for President George H. W. Bush in 1991. A popular TV show was later made about the work that Ms. Smith did as a lawyer after leaving the White House.