Port Fourchon, Louisiana —(Map)
Hurricane Ida pounded Louisiana yesterday with extremely strong winds and heavy rains. Ida is the second strongest hurricane to hit Louisiana, and it's still moving slowly, leaving a path of destruction behind it.
Ida made landfall Sunday morning as a Category 4 hurricane. With winds as fast as 150 mph (240 kph), it was very close to a Category 5 – the strongest level.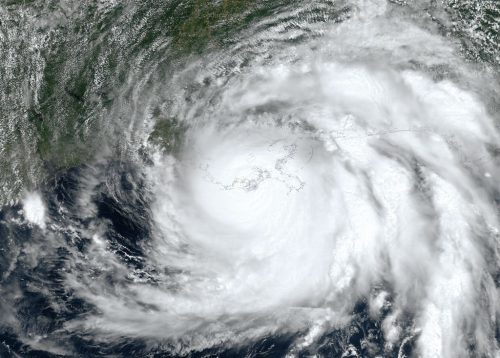 Though hurricanes often lose force after hitting land, Ida's winds didn't drop to Category 3 speeds for roughly six hours. The hurricane destroyed buildings, took out trees and power lines, and turned over cars.
All of New Orleans and areas near it were left without power, an outage affecting nearly a million people.
A massive storm surge of up to 16 feet (4.9 meters) was expected. The surge came over the top of levees in some areas, leading to flooding. Boats broke loose and were swept away. The surge was so strong that the Mississippi River flowed in the opposite direction for a while.
Weather experts were surprised by how quickly Ida grew into a powerful storm. Conditions allowed Ida to turn from a tropical storm into an incredibly strong hurricane in just 24 hours.
Because the storm developed so quickly, people didn't have as long to evacuate or prepare. Tens of thousands of people were told to evacuate, but highways were packed, making it difficult to leave.
Yesterday's date – August 29 – is exactly the same day that Hurricane Katrina hit the state in 2005. Though Ida's winds are faster, Katrina was stronger in other ways. Katrina flooded most of New Orleans, and caused over 1,800 deaths. It took months, and even years, for the area to recover afterward.
One of the greatest causes of damage from Katrina was that the levee system didn't work well. A lot of work has been done to improve the levee system since 2005. Ida is probably the most severe test of the levees since that time.
Port Fourchon, where Ida made landfall, is an area with lots of oil, gas, and chemical businesses. It's not yet clear how much damage may have been done in the area, or how long it might take to clean up.
In recent weeks, Louisiana has seen a sharp rise in the number of coronavirus cases. The situation caused by Hurricane Ida is likely to make Louisiana's Covid-19 crisis even worse, especially since fewer than half the people in the state have had even one vaccination.
Hurricane Ida's winds are still strong, but it's now moving at a much slower speed as it heads north. That's bad because it gives the storm more time to do damage. Some areas could get as much as 20 inches (51 centimeters) of rain, and more flooding is expected.
Because Ida is still a powerful storm, it will take time to understand how much damage has been done. Governor John Bel Edwards and US President Joe Biden have already declared an emergency. Many emergency workers are in the area, waiting for the storm to calm down so they can begin rescue operations.