Tokyo, Japan —(Map)
The Tokyo 2020 Paralympic Games officially began last Tuesday. Many Paralympic records and world records have been broken in the last week. The excitement will continue until the Games end on September 5.
The Paralympics are like the Olympics, but they feature athletes who have some form of disability. The disabilities can include muscle problems, inability to move body parts, loss of body parts, brain challenges, and blindness, for example.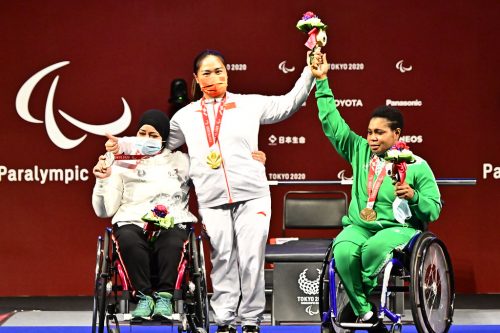 The disabilities are broken down into 10 large groups. The athletes are also separated by how serious their disabilities are. The goal of the Paralympics is for athletes to compete with other athletes facing similar challenges. It can be hard to do this fairly, since there are so many different kinds of disabilities.
Though Paralympic athletes all have some form of "disability", the focus of the Games is instead on the talents and abilities of these amazing athletes.
This year's activities were supposed to be held last summer, but the Games were delayed because of the coronavirus. Now, a year late, the 2020 Paralympic Games has brought more than 4,500 athletes to Tokyo from 163 different nations. They're competing in 22 sports broken down into over 500 different events.
Players in wheelchairs are competing in tennis, basketball, rugby, fencing, and other sports. Blind athletes, or those with limited vision are running races, biking, playing soccer (football), judo, and other sports. Athletes with prostheses are taking part in all sorts of activities.
This year's Paralympics have been amazing so far, and there have been many incredible stories. With so many great athletes and so many events, it's hard to choose just a few highlights. But here are some samples:
• Italian wheelchair fencer Beatrice "Bebe" Vio, who won gold in 2016, beat China's Zhou Jingjing to take gold again.
• American Nick Mayhugh, who was a soccer player until about a year ago, set a new world record by running the men's 100 meter race in 10.95 seconds.
• India's Sumit Antil set three world records on his way to earning a gold medal in the javelin throw.
• Great Britain's men's wheelchair rugby team defeated the US 54-49 to take the gold medal.
• Spain's Susana Rodriguez is a doctor who is legally blind. She and her guide Sara Loehr won the women's triathlon.
• Though Egypt's Ibrahim Hamadtou, who has lost both arms, did not win a medal, his method of playing table tennis with the paddle in his mouth won him many fans.
So far, China is leading the contest with a total of 119 medals, including 54 gold medals. Great Britain is in second position overall, with 68 medals including 26 golds.
The Paralympics is a very serious sporting event, with highly talented athletes. But the Games also have another goal: raising awareness and acceptance of people with disabilities.
Roughly 15% of the people in the world have some sort of disability. Events like the Paralympics can serve as a reminder to everyone – whether disabled or not – that being disabled in one area doesn't have to limit people in others.
---
Did You Know…?
It has been difficult to hold the Paralympics while Japan is struggling to get its coronavirus emergency under control. Like the Olympics, no fans are allowed, so the athletes are competing without crowds.