Donetsk Oblast, Ukraine —(Map)
Russian President Vladimir Putin and US President Joe Biden held a virtual meeting on Tuesday to try to resolve a growing crisis on the border of Ukraine. Russia has over 70,000 soldiers near the Ukraine border. Many experts worry Russia is getting ready to invade.
Satellite images show that since April, Russia has brought tens of thousands of soldiers, tanks, and large guns to spots along its border with Ukraine. Ukraine says there are about 94,000 Russian soldiers at the border.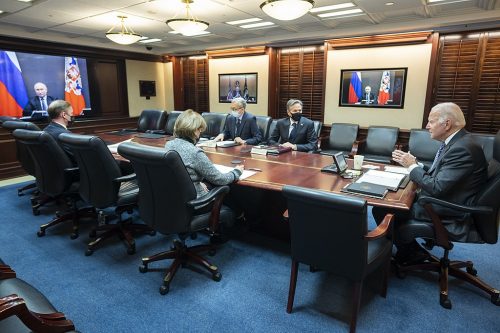 The US military says there are about 70,000 soldiers, but that the number could grow as high as 175,000. US military leaders say Russia appears to be planning an attack, which could come by the end of January.
Background: Ukraine and Russia
After World War II, Ukraine was part of the Soviet Union (USSR). The USSR was made of Russia and many smaller countries. Ukraine became independent in 1991 when the USSR broke up, but many people in the country still have close ties to Russia.
Russia has already invaded Ukraine once. In 2014, Russia invaded and took control of Crimea, a peninsula in southern Ukraine. Most of the world believes Crimea is part of Ukraine, but Russia says Crimea belongs to it now. The US and many European countries put sanctions on Russia in response to the takeover, but the sanctions haven't had much effect.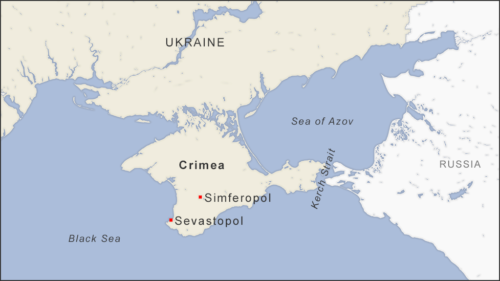 The crisis in Ukraine is really a power struggle with Russia on one side, and the US and the European Union (EU) on the other. Mr. Putin sees Ukraine as part of Russia. But Ukraine is independent, and plans to ask to join the EU.
Ukraine has already asked to join NATO, a defense agreement that would give Ukraine protection from Russia. Russia wants to prevent that.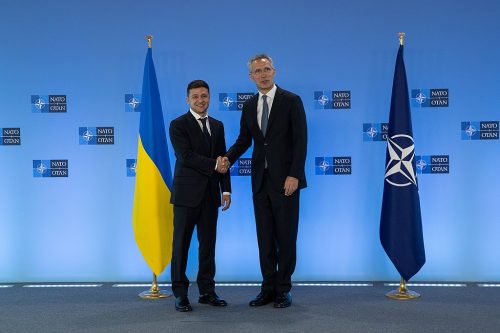 Fighting along the Russia-Ukraine border isn't new. In 2014, with Russian support, two areas of Ukraine claimed they were independent of Ukraine. These areas – Donetsk and Luhansk, known together as "Donbas" – have strong ties to Russia.
When Ukraine pushed back against military attacks by groups in these areas, Russia's military entered Donbas to fight Ukraine. The move has been described as a secret "invasion" of Ukraine by Russia. Fighting has gone on since 2014 in spite of many ceasefires. Several soldiers and civilians are killed in the area every month.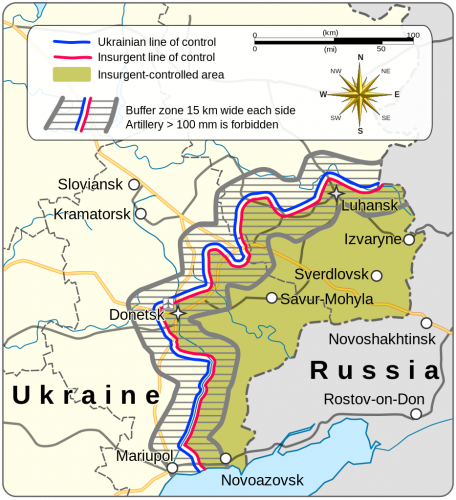 But the buildup of soldiers and weapons on the border now is very different from the tricky actions Russia's military has taken in Donbas in the past. Still, experts say it's not clear what Mr. Putin's goal is in bringing soldiers to the Ukraine border. It's clear that Mr. Putin feels threatened by the support the US is giving Ukraine and by the growing influence of NATO.
The US and European countries have been discussing how they might respond if Russia does invade. It's unlikely that they would join Ukraine in fighting against Russia, though they might send weapons or money to support Ukraine.
😕
This image has not been loaded because of your cookie choices. To view the content, you can accept 'Non-necessary' cookies.
The US has mainly been talking about new sanctions that are much stronger than those used after Russia invaded Crimea.
One possible punishment would be suspending the Nord Stream 2 gas pipeline, which is expected to bring huge amounts of money into Russia. Punishing Russian banks and energy companies is another possibility. Perhaps the strongest sanction would be locking Russia out of an international electronic payment system called SWIFT. That would make life very difficult for all Russian businesses and banks.
😕
This image has not been loaded because of your cookie choices. To view the content, you can accept 'Non-necessary' cookies.
Tuesday's meeting between Mr. Biden and Mr. Putin lasted over two hours. It's unlikely that the meeting changed the situation much, but both sides say they made their positions clear.
It's too early to tell what will happen in Ukraine. Much depends on what Mr. Putin's real plan is.
😕
This map has not been loaded because of your cookie choices. To view the content, you can accept 'Non-necessary' cookies.