Japan Hit by Strong Earthquake Near Fukushima
A strong earthquake hit near the northeast coast of Japan on Wednesday night. The 7.4 magnitude quake killed four people and left at least 140 people injured. The earthquake could be felt in Tokyo, where buildings shook heavily. Smaller aftershocks continued into Thursday morning.
The center of the earthquake was about 35 miles (57 kilometers) off the coast of Fukushima. There was a tsunami warning, but it was lifted the next morning. No large waves appeared.
A bullet train carrying about 100 people went off the rails. No one was injured, but it could take weeks to repair the track. Some roads were damaged and others blocked by landslides. At least one major highway is being carefully inspected before it can re-open. Several companies closed factories to make sure they were safe before re-opening.
😕
This image has not been loaded because of your cookie choices. To view the content, you can accept 'Non-necessary' cookies.
The quake reminded many people of the terrible 2011 disaster near Fukushima. That earthquake created a huge tsunami, which killed around 18,000 people and damaged a nuclear plant. So far, all nuclear plants in the affected area seem to be fine.
Experts have warned that strong earthquakes could still follow in the next week or two.
China Locks Down Tens of Millions to Control Covid Spread
China has locked down at least 13 cities, home to tens of millions of people, in an attempt to control the spread of Covid-19.
Since the new coronavirus first appeared over two years ago, China has taken strong steps to completely get rid of the virus every time it appears. At times it has been difficult to stick to this strict "zero-Covid" program. That's especially true with variants that spread easily, like Omicron.
Recently, China has seen a sharp rise in cases. On Tuesday, there were over 5,000 new cases. That's a small number compared to many countries, but it's the biggest challenge to China's zero-Covid program since the early days of the pandemic.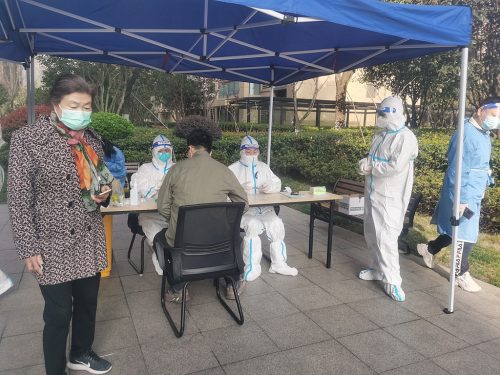 Jilin province in the northeast, with over 24 million people, has been hit the hardest. China has responded strongly. No one is allowed to travel into, out of, or across the province without special permission. The government is now racing to build extra hospitals in Jilin.
Over 17 million people in China's southern technology center, Shenzhen, have been told to remain at home. In Shenzhen and in many other cities across China, businesses and factories have been shut by the lockdowns.
Chinese President Xi Jinping says the country will continue to follow its zero-Covid plan. This is the country's biggest challenge yet in meeting that goal.
Container Ship 'Ever Forward' Is Stuck
Last March, a massive container ship – the "Ever Given" – got stuck in the middle of the Suez Canal. It blocked ships in this important waterway for days. Now, another container ship belonging to the same company has run aground. The "Ever Forward" ran aground in the Chesapeake Bay as it left the Port of Baltimore on Monday.
😕
This image has not been loaded because of your cookie choices. To view the content, you can accept 'Non-necessary' cookies.
It's still not clear how the Ever Forward managed to run aground. But there is some good news: no one was injured, there are no leaks from the ship, and the ship isn't blocking any other ships. The US Coast Guard is working to help free the ship.