Recent elections have led to some new leaders, but also kept some current leaders in power. Today, NFK looks at election results from Costa Rica, Hungary, and Serbia.
Chaves Wins in Costa Rica
On Sunday, Rodrigo Chaves came out ahead in Costa Rica's run-off election against Ex-President José Maria Figueres. Mr. Chaves, 60, used to work for the World Bank and served briefly as a government minister. In February, he surprised people by making it into the runoff election. But on Sunday, he earned 53% of the vote, easily beating Mr. Figueres's 47%.
Mr. Chaves promised to run Costa Rica in a new way that didn't count on Costa Rica's old political system. He says if he has trouble working with Congress, he'll hold referendums to allow Costa Rica's people to vote on important subjects.
Roughly 42% of Costa Rica's voters stayed home, suggesting that neither candidate was extremely popular. Mr. Chaves was forced to resign from the World Bank because of concerns over the way he treated women there. His campaign is also being investigated for the way it handled money. Mr. Figueres has been questioned over the large amount of money he earned after he was president.
The contest was a very negative one. But after winning, Mr. Chaves became more positive. He said he hoped the people of Costa Rica would "unite beneath the blue, white, and red of our national flag."
Viktor Orban Is Re-Elected in Hungary
Prime Minister Viktor Orban's Fidesz party easily held on to power in Hungary's election on Sunday, taking 54% of the vote. The next closest party was the United for Hungary group, which won just 35% of the vote. This will be Mr. Orban's fourth term as prime minister. And with 135 seats out of 199, Fidesz will have no trouble controlling Parliament.
The re-election of Mr. Orban is a challenge for the European Union (EU). Many of Mr. Orban's views are very different from those of people in other governments in Europe. He has worked to limit freedoms in Hungary, especially for reporters and news groups. He has put his supporters in positions of power across the country, making life hard for those who oppose him.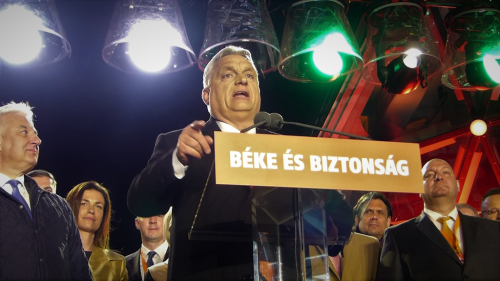 Mr. Orban has been a supporter of Russian President Vladimir Putin. This will make it complicated for the EU to reach agreements on sanctions against Russia. Hungary has taken in roughly 500,000 Ukrainian refugees. But the government has refused to send weapons to Ukraine or allow other countries to send weapons through Hungary.
Mr. Putin was one of the first people to congratulate Mr. Orban.
Aleksandar Vucic Is Re-Elected in Serbia
In Serbia, Aleksandar Vucic was re-elected as president on Sunday with roughly 60% of the vote. Like Mr. Orban, Mr. Vucic has strong control over news organizations in the country, which makes it hard for opposing politicians. Conditions in Serbia are generally good now, and that also helped Mr. Vucic.
Mr. Vucic's Progressive Party didn't do as well, actually losing about a third of its seats in Parliament. But it should still be able to remain in control by forming a coalition.
Like Mr. Orban, Mr. Vucic is seen as being friendly with Russia. Though Serbia condemned Russia's invasion of Ukraine at the United Nations, the country did not join other Western countries in putting sanctions on Russia. Mr. Vucic has suggested that the country will continue its close ties with Russia.