Shanghai Comes Out of Two-Month Lockdown
On June 1, people in Shanghai, China began to come out of a two-month Covid-19 lockdown. For the first time since April, people were able to leave their homes to walk, exercise, and meet friends. "This is a day that we dreamed of for a very long time," said Yin Xin, speaking for Shanghai's government.
The long lockdown caused many people in China to criticize the government's "zero-Covid" program. Criticism of the government is very unusual in China. But the lockdown was extremely hard on many people. China is the only large country still following a zero-Covid plan.
😕
This image has not been loaded because of your cookie choices. To view the content, you can accept 'Non-necessary' cookies.
On Wednesday, buses and subways began running normally again. So did trains to other Chinese cities. Stores and shopping malls opened up, but can only let in 75% of the people they normally serve.
There are still plenty of steps to keep Covid-19 under control. Most students won't be going to school again right away. People must prove they are healthy to leave their homes and to ride public transportation. And around 650,000 are still required to stay home.
K-Pop Group BTS Visits the White House
The South Korean "K-Pop" band BTS visited the White House on Tuesday. The international singing stars weren't there to perform. Instead, the group's members came to talk about a recent rise in racist attacks on Asians in the US.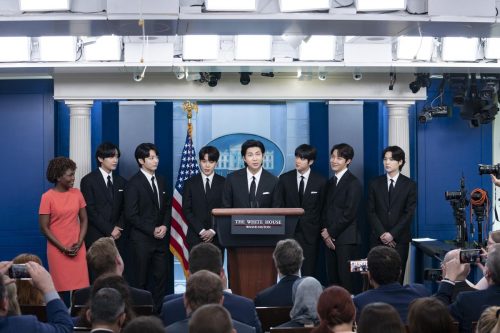 Racist attacks against Asian people in the US have increased greatly in the last two years. A group that studies "hate crimes" says hate crimes against Asians shot up 339% in 2021. Though racism against Asians is an old problem in America, the situation got much worse after the coronavirus pandemic began. Many people wrongly blamed Asians for the pandemic.
At the White House, members of BTS spoke with reporters about their own experiences with racism. Suga, one of the band's rappers, said, "It's not wrong to be different." Another BTS member, V, said, "We hope today is one step forward to respecting and understanding each and every one as a valuable person."
After talking with reporters, the group members met privately with US President Joe Biden.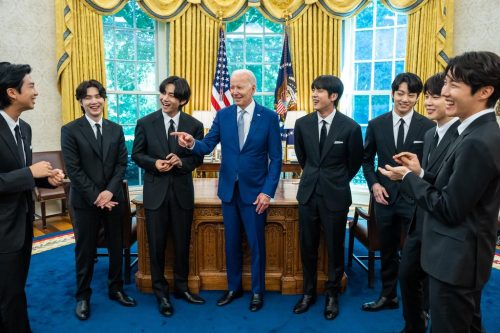 Museum Visitor Throws Cake at the Mona Lisa
On Sunday, a visitor to Paris's Louvre museum launched a surprise attack on the Mona Lisa with a piece of cake. But the famous painting by Leonardo da Vinci was protected by thick glass, and wasn't damaged.
One witness described the visitor as "a man dressed as an old lady", wearing a wig and lipstick. The man pretended he needed a wheelchair so that museum workers would bring him close to the famous painting.
😕
This image has not been loaded because of your cookie choices. To view the content, you can accept 'Non-necessary' cookies.
Once he was near the painting, the man suddenly stood up, took out a piece of cake he had hidden, and rubbed it on the painting. The man was recorded saying, "There are people who are destroying the Earth…Think about the Earth. That's why I did this." The museum reports that the man threw the cake at the painting.
Museum workers were easily able to clean the glass that protects the painting. This isn't the first time the Mona Lisa has been attacked. Because of earlier attacks, it has been protected by bullet-proof glass since 1956.