United Kingdom —
In an effort to help out important insects like bees and butterflies, bus stops across the United Kingdom (UK) and Europe are getting living roofs. Small gardens on bus shelter roofs are being planted with flowers chosen to help support the struggling insects.
Called "bee bus stops" or "buzz stops", the gardens provide much-needed islands of nature in a harsh, man-made environment of a city.
Humans count on bees and other "pollinators" like butterflies to help grow plants, such as flowers, trees, and crops. When these insects visit flowers, they collect pollen – a yellow powder in the center of most flowers. Without bees or other insects bringing pollen from one flower to another, many plants could not produce seeds or grow fruits or vegetables.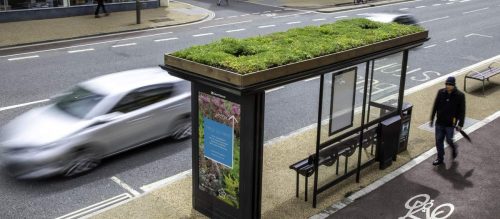 But in recent years, insect numbers have been dropping sharply. The Wildlife Trusts, a group which works to protect wildlife in the UK, says that insect numbers there have dropped by 50% since 1970.
As humans have taken over more and more land for cities, roads, and farms, natural areas have disappeared. The Guardian reports that 97% of England's wildflower fields have been lost since World War II. Bee bus stops are a small step toward supporting these important insects.
The advertising company Clear Channel is working with The Wildlife Trusts and city governments to set up bee bus stops in cities across the UK.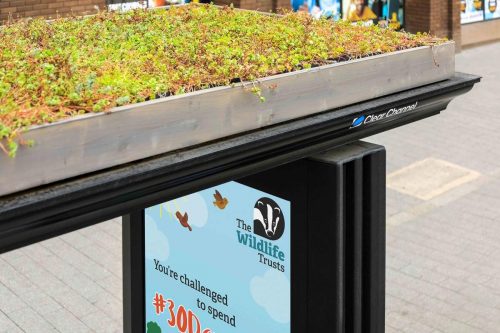 Bee bus stops are like ordinary bus shelters, but small gardens have been added to the roofs. The gardens are filled with flowers and plants chosen to attract bees and butterflies. In the UK, The Wildlife Trusts is giving advice on the location of the shelters and the plants that are included.
Because the soil for the rooftop garden is heavy, especially when it rains, the bus shelters need to be sturdy. The rooftop gardens need to be trimmed about twice a year. But other than that, not much is needed to keep the gardens going. This summer was a little different, because of the drought.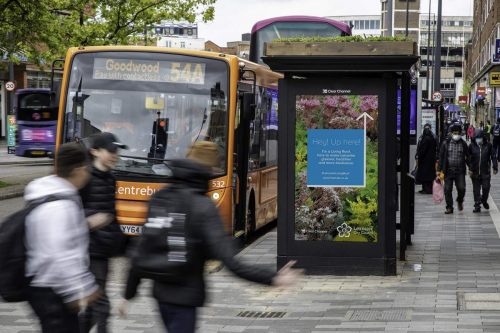 Clear Channel manages about 30,000 bus stops across the UK. It says that most bus stops last about 20 years. As bus stops need to be replaced, Clear Channel is working with local governments to put in bee bus stops. The company hopes to install at least 1,000 bee bus stops in the UK.
Clear Channel already has similar bee bus stop programs in several countries in Europe. In the Netherlands, the city of Utrecht has 300 bee bus stops.
Research shows that these bus stops – along with many other steps taken to support pollinators – may be helping. After decades of dropping numbers, bee populations in the Netherlands seem to have become more stable over the last few years.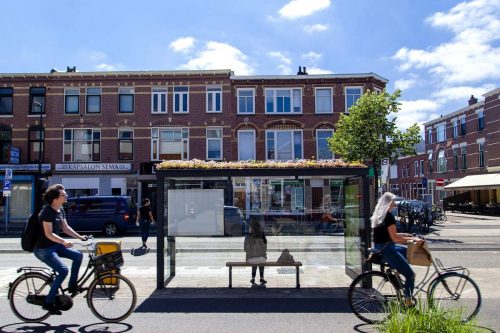 The little gardens can also help to slightly lower city temperatures. Even though the bus shelter gardens are small, together they add up to a much larger area.
Thirzah McSherry, who works for The Wildlife Trusts, says, "We're living through a nature and climate crisis and we need to use every tool we've got to tackle it."