Cianjur, Indonesia —(Map)
On Monday, Indonesia was hit by a powerful earthquake which left at least 162 people dead. Several hundred more people were injured. The 5.6 magnitude quake struck on the island of Java. Emergency workers are struggling to help the injured people and find those who are still missing.
The center of the earthquake was close to the city of Cianjur. Indonesia's government says the quake knocked down hundreds of buildings in the area, leaving some people trapped in the rubble. "So many buildings crumbled and shattered," said Ridwan Kamil, the governor of West Java.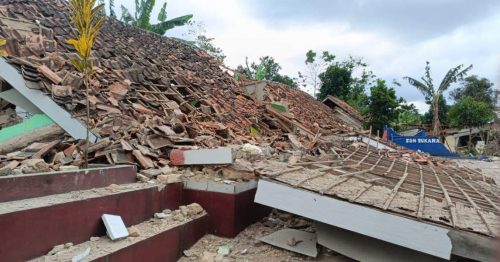 The earthquake also caused landslides, which led to roads being blocked. The landslides and wrecked buildings made it much harder to help injured people. The Red Cross sent nurses out on motorcycles to help people in the hardest-hit areas.
Getting to the hospital was a challenge because so many roads were blocked by the effects of the earthquake. Many patients were brought in on motorcycles, since it was hard for larger vehicles to pass through the streets.
At Cianjur's main hospital, the situation was serious. Not only was the hospital damaged in the quake, its power also went out.
The government quickly set up tents outside the hospital. But many patients were simply laid out in open areas nearby, since the hospital and the tents were completely full. Though hospital workers were doing their best, there weren't enough doctors to care for all the injured people.
The BNPB is the Indonesian government group responsible for helping when disasters hit. The group reported that at least 343 buildings had been destroyed. The buildings included schools, religious buildings, and government buildings.
About 2,300 homes were also damaged, leaving close to 14,000 people with no place to live. The government is setting up 14 temporary camps to help take care of these people. The leader of the BNPB has promised that, "Houses that are damaged will be rebuilt by the government."
Since the main earthquake, there have been dozens of aftershocks – smaller quakes which follow the main earthquake. Many people are uncertain about staying in their houses. They are worried that an aftershock could damage the house while they are in it.
Because so many buildings were damaged and it's hard to reach all of the affected areas, the number of people affected by the earthquake is expected to rise.
Earthquakes aren't unusual in the island nation of Indonesia. This was the fourth large earthquake in Indonesia this year. Indonesia is in an area called the "Ring of Fire". This is a large area in Asia where earthquakes and volcanoes are common.
The USGS (United States Geological Survey) said that the earthquake was only about 6 miles (10 kilometers) underground. That's shallow for an earthquake. Shallow earthquakes can have terrible effects, even if they're not that strong. That's because shallow quakes lose much less energy on their way to the surface.