Legislation means a law or a group of laws. Sometimes the word "statute" can be used for a single law. Before legislation becomes law it is often called a "bill", which means a law that people are talking about, but which is not a law yet.
Groups like Congress or Parliament are called legislatures because they create laws. New legislation (a new law) is usually suggested by a member of a legislature. These people are called legislators because they have the power to create laws. But a new law can also be suggested by the executive (the President, for example).
After the bill is suggested, it is discussed by members of the legislature and is often changed. Sometimes bills are changed a lot. The bill only becomes a new law after it is passed (agreed on) by the legislature, and signed by the executive branch.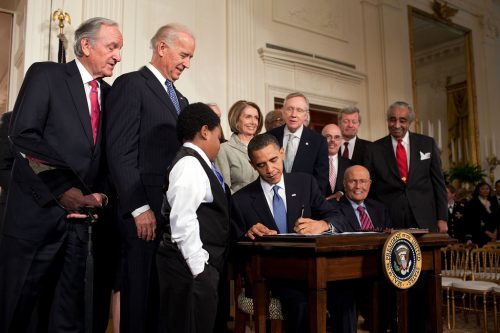 In the United States, the president has the power to veto (say no to) the bill. If at least two thirds of the Congress want to pass the bill, then they can vote to override the president's veto. The bill will then become a law even though the president does not like it.