A political party is a group of voters who want the same things and work together to make those things happen. A political party usually has people "run" for public office. This means the person tries to get elected. Examples of public offices include mayor, governor, president, senator, member of Congress (or Parliament). In a dictatorship, there is usually only one party allowed, and that party can choose a leader without elections.
In some democracies, there are only two big political parties. For example, in the United States, there is the Democratic Party and the Republican Party . There are other parties, but they are very small and have not gotten many people elected.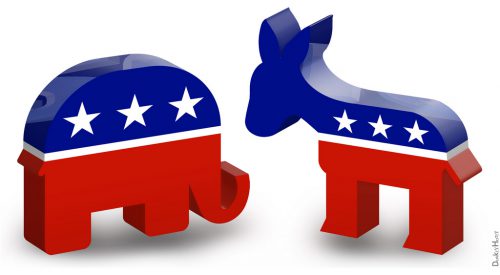 In other countries there are more parties. In the German federal Parliament (or Bundestag), six parties have seats. In the United Kingdom, there are two big parties, one medium-sized party, and many small ones.