Los Angeles, California —(Map)
The movie Coco won an Academy Award on Sunday night for the best animated movie. The movie has been very popular in movie theaters, and now it is winning awards.
Coco was made by the company Pixar. The movie tells the story of a boy who wants to make music. He visits the "land of the dead" to get help from his great-great-grandfather.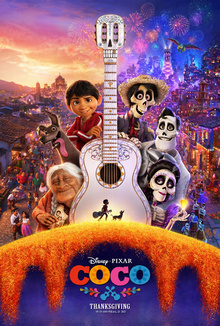 The movie got the "Best Animated Feature" award at the Academy Awards. A "feature" is a full length movie. The Academy Awards are sometimes called "The Oscars". People who are in the movie business get to vote for the movies and the parts of movies they think are best. The ones that win get a statue called an "Oscar". A song in the movie, called "Remember Me", also won an Oscar for the best song.
Coco has won other awards, too. For example, it also won the best animated feature award at the Golden Globe Awards.
😕
This map has not been loaded because of your cookie choices. To view the content, you can accept 'Non-necessary' cookies.