This article is an update to the story: Tensions Rise After US Attack Kills Iran General.
At around two in the morning on Wednesday, January 8, Iran launched 22 missiles at two US bases in Iraq. No US or Iraqi soldiers were hurt or killed.
The missile launch was made in response to a drone attack ordered by US President Donald Trump which killed Iranian General Qassem Soleimani. After General Soleimani was killed, Iran had threatened "severe revenge". Many people on both sides were worried that the exchange could quickly grow into a war.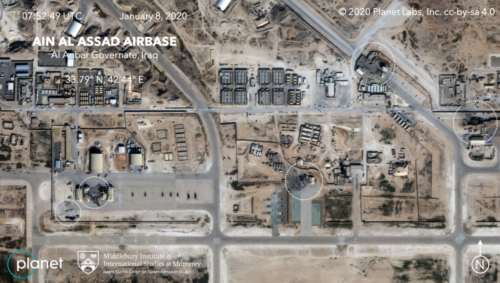 But Iran's strike seemed planned to avoid killing anyone. Inside of the US bases, several buildings seemed to be hit very exactly. None of the buildings that were hit were places where lots of people lived or worked. The US had had some warning that the attacks were coming and so it had a chance to prepare.
Mr. Trump said, "Iran seems to be standing down." Though he mentioned placing more sanctions on Iran, Mr. Trump appears to have decided not to strike Iran again in response to the attack.