Berlin, Germany —(Map)
On Sunday, Eliud Kipchoge smashed the world record for the marathon, beating the old record by a minute and 18 seconds. His time of 2 hours 1 minute 39 seconds makes it seem more likely that one day someone might run a marathon in less than two hours.
A marathon is a 26.2 mile (42 kilometer) running race. It is a hard race. Runners must not only be fast, but they must be strong enough to keep their speed up over a very long distance.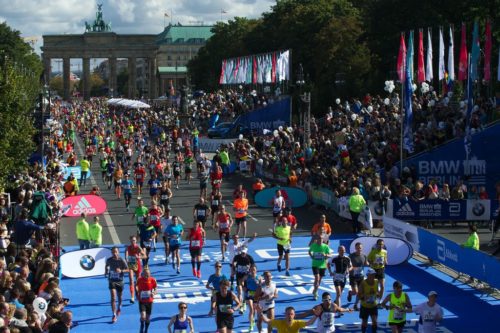 Kipchoge is a 33-year-old Kenyan who many people believe is the best long-distance runner of all time. Before Sunday's Berlin Marathon, the men's marathon record was 2:02:57, set by Dennis Kimetto in 2014. Kipchoge had come close to that time several times, but had never beaten it.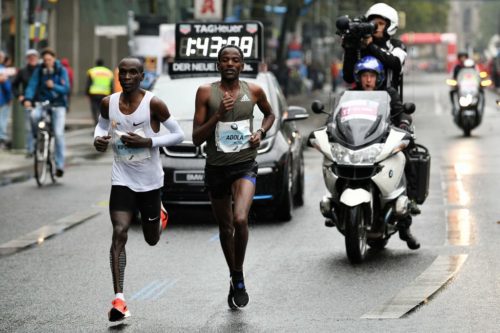 Like some pro runners, Kipchoge started the race with pacers. Pacers run with the athlete to help them run at the right speed. The pacers don't plan to finish the race, but can usually run most of it before getting tired and letting the pro athlete go on alone.
But on Sunday, no one could keep up with Kipchoge – not the other runners, and not even his pacers. He lost two pacers after 10 miles (16 kilometers) and the last one fell behind not too long after the half-way point.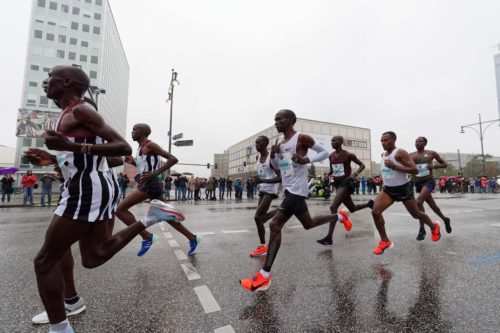 Kipchoge finished the last 10 miles on his own. He did not seem to get tired. In fact, he ran the second half of the race faster than he ran the first half. Kipchoge ran 26.2 miles at an average speed of 4:39 (2:53 per kilometer). The second place runner was almost five minutes behind him.
"It was hard," Kipchoge said. "I am just so incredibly happy to have finally run the world record as I never stopped having belief in myself."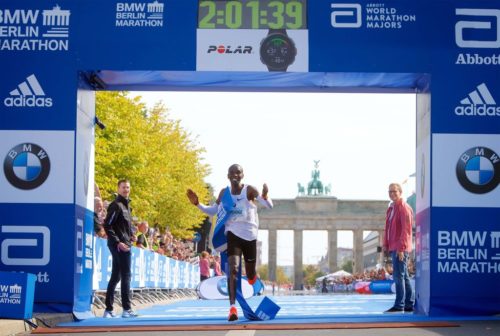 Many people are shocked that Kipchoge was able to beat the world record by so much. 78 seconds is a big jump from the last record.
That big change has some people hopeful that Kipchoge can do what many used to think was impossible: run a marathon in less than two hours.
But Kipchoge joked that he wants to run slower next year. "The next is I've got to run 2:02," he said, pointing out that he's run marathon times of 2:00, 2:01, 2:03, 2:04 and 2:05, which means that 2:02 is missing. (Kipchoge's 2:00:25 run happened last year on a special course with special conditions and does not count as a regular marathon time.)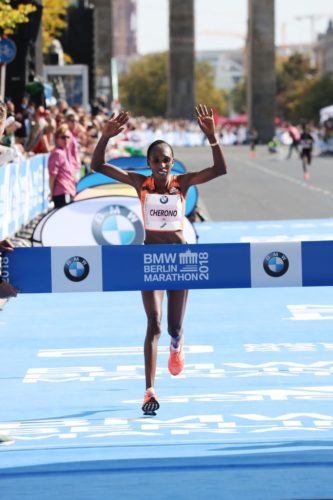 Gladys Cherono, also of Kenya, was the fastest woman in the Berlin Marathon this year. Her winning time of 2:18:11 was a record for the Berlin Marathon, but not a world record. This is the third time Cherono has won the Berlin Marathon.
Many marathon world records have been set at the Berlin Marathon. The course is mainly flat and the weather is usually comfortable for running. This year 44,389 people ran the marathon.
😕
This map has not been loaded because of your cookie choices. To view the content, you can accept 'Non-necessary' cookies.