Sydney, Australia —(Map)
A pair of male penguins have hatched a chick from an egg at Sydney's Sea Life Aquarium. Workers at the aquarium report that the couple are doing a wonderful job of taking care of the young chick.
Earlier this year, workers at the Sydney aquarium noticed that two of their male gentoo penguins appeared to have paired off. The two, who are named Sphen and Magic (or sometimes just "Sphengic") walked around together and went for swims together.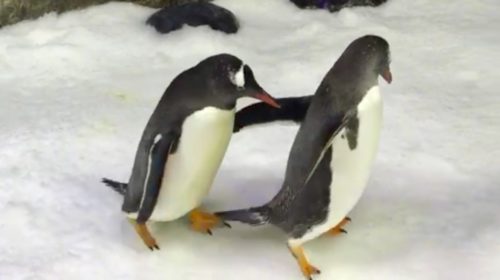 The two also offered small stones to each other. These pebbles are used to build nests, and this is usually a way that the penguins show they are interested in raising a chick. Together, the two collected more of these pebbles than any of the other couples at the aquarium.
When the workers at the aquarium saw what Sphen and Magic were doing, they gave them a fake penguin egg. They wanted to see what the two would do with it. The two knew exactly what to do, and soon began to incubate it – they took turns covering it with their bodies to keep it warm so that it could hatch.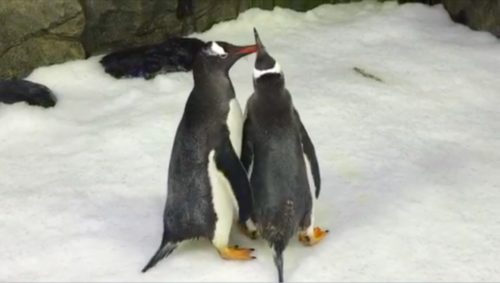 After the aquarium workers realized how serious Sphen and Magic were, they gave them an extra egg from another penguin couple. Gentoo penguins sometimes lay more than one egg, even though they can only raise one chick. The second chick usually dies. The aquarium said that the couple that had laid two eggs didn't even seem to notice that the second one was missing.
Sphen and Magic took turns, with one incubating the egg on the pebble nest, while the other walked around the area, making sure the nest was safe.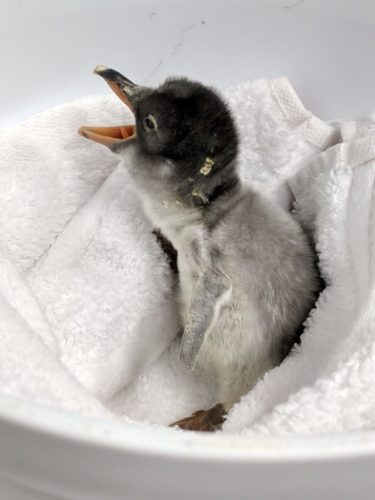 On Friday, October 19, the egg hatched, and out came a small chick weighing 3.2 ounces (91 grams). The aquarium notes that when it hatched, the chick weighed less than an apple.
Workers at the aquarium say that Sphen and Magic are "absolute naturals". They are already feeding and caring for the chick. Over the next five or six weeks, they will take turns getting food for the chick, who will need to be fed about 10 times a day. The aquarium workers say the first 20 days are the most important.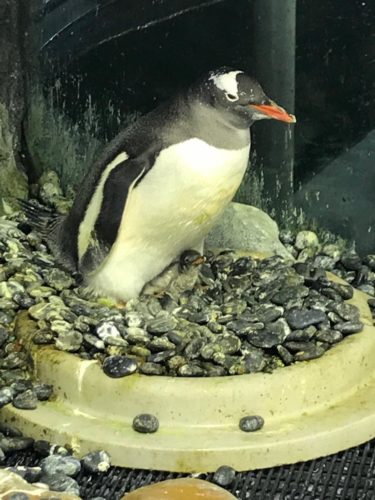 When the chick is big enough, it will begin to lose its fluff, replacing it with adult feathers. That's when it will learn to swim.
The chick does not yet have a name, so workers at the aquarium are calling it Baby Sphengic. They still do not know whether it is a boy or a girl. To find out, they will have to wait a couple of months until they can do a blood test.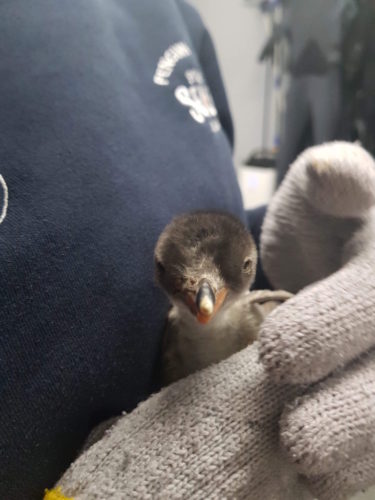 Same-sex penguin couples are not that uncommon, especially in zoos and aquariums. But it is fairly unusual for male penguin pairs to raise a chick.
Aquarium workers say that if Sphen and Magic are successful at raising a chick this year, they are likely to pair up again next year to try once more.
😕
This map has not been loaded because of your cookie choices. To view the content, you can accept 'Non-necessary' cookies.