Canberra, Australia —(Map)
The Royal Australian Mint has started Australia's first coin hunting contest, which they call "Dollar Discovery". They are hoping people all over Australia will try to collect three special coins that could allow them to win a prize.
In this case, "mint" is not a flavor, but the factory that creates the money (usually coins) that people use in a country.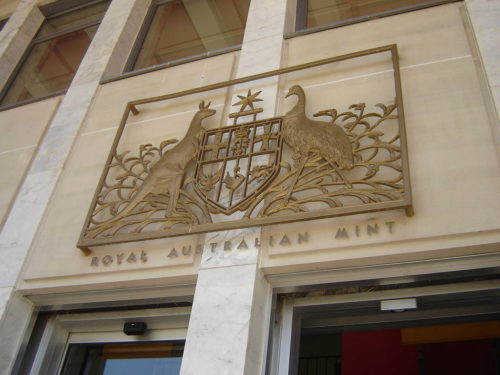 The Royal Australian Mint (RAM) is starting the competition because they want to encourage people to begin collecting coins again. The leader of the Mint, Ross MacDiarmid, says he hopes that people "…will not only collect these coins but also be reminded of the value of a dollar."
The coin hunt is also a way of marking 35 years since Australia began using a one dollar coin, which first came out in 1984. At the time, the coin was created to replace the $1 bill, which was made of paper. The government had to replace the paper money often, because it wore out easily. Since that time, the RAM has put out hundreds of millions of the "five kangaroo" coins.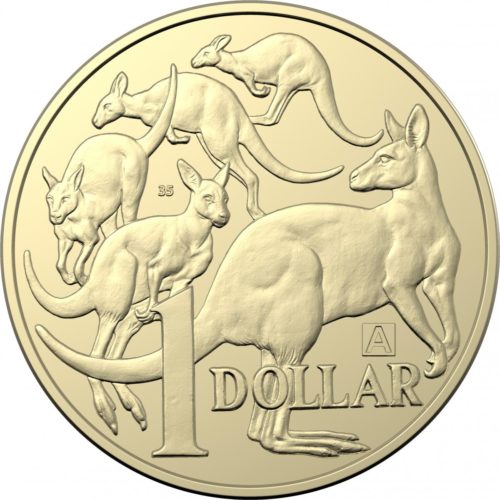 For the contest, the mint is creating, or "minting", 3 million $1 coins. The 2019 coins will look like regular five kangaroo coins with two big differences. All of the coins will have a "35" on them, because it's the 35th year of the coin. Each coin will also have the letter A, U, or S on it (the first three letters of the word "Australia").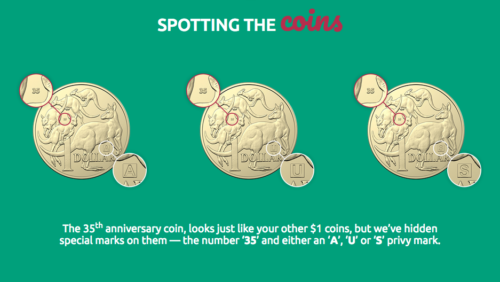 Some people are comparing this coin hunt to a contest that Roald Dahl wrote about in the book Charlie and the Chocolate Factory. In that book, Willy Wonka, a candy maker, put a few special winning tickets in with his candy bars. People had to buy the candy bars to try and get a ticket.
The RAM's contest is a little different. People can enter the contest online. Then they must try to collect all of the three different coins (A, U, and S). The RAM will then choose eight winners, making sure that each winner is from a different area of Australia.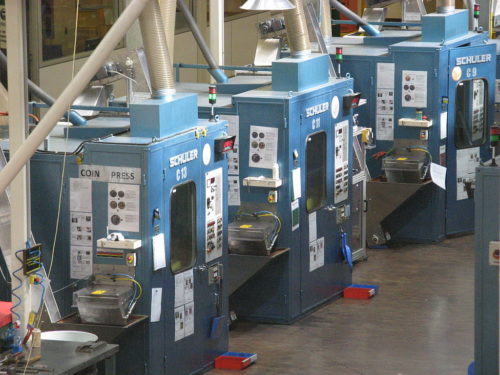 Winners will be flown to Canberra. They will get to stay in a special wildlife hotel, and be given a tour of the Mint. While they are at the Mint, they will be able to make their own coin. These coins will be huge. Each will be made out of 2.2 pounds (1 kilogram) of pure silver.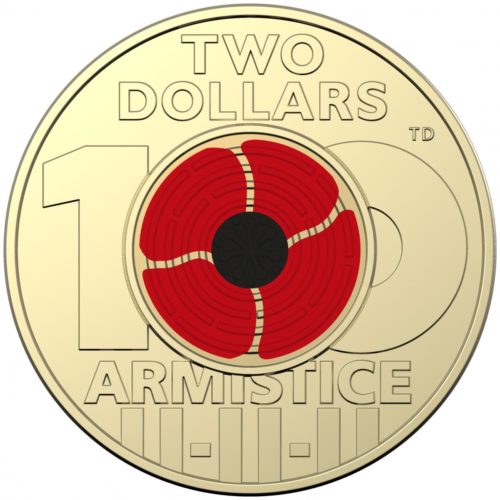 The RAM often comes up with new and unusual coin ideas. Several times a year they put out new coins. Some coins are only meant for collectors, but others are actually meant to be used. Earlier this year they came out with a special $2 coin to mark the 100 years since the end of World War I – November 11, 2018. On a less serious subject, they also put out a special coin celebrating 45 years of the Australian rock band AC/DC.