London, England —(Map)
The Natural History Museum in London holds a yearly contest for the Wildlife Photographer of the Year. There is a separate contest for people under 18, known as the "Young Wildlife Photographer of the Year" (YWPY). Here are some of this year's best pictures and the stories behind them.
The pictures are judged in three separate age groups: 10 and Under, 11-14, and 15-17.
---
Ages 10 and Under
Winner: Arshdeep Singh, India

Pipe Owls
Arshdeep Singh of India asked his father to stop the car and back up after he saw a small bird fly into a pipe. When a spotted owlet poked its head out of the pipe, Arshdeep borrowed his father's camera. He rested the camera on the raised car window. When a second owlet showed up, Arshdeep was ready for the shot.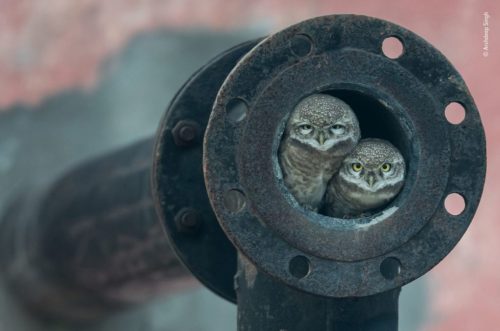 Arshdeep began taking photos when he was six. He wants to become a wildlife photographer and help protect nature.
---
Fred Začek, Estonia
Meadow Song
Fred Začek and his family visited a field near his house for three days straight, trying to get pictures of birds. When Fred saw this yellow wagtail, he crawled through the tall grass, ignoring the stinging plants and flying insects, trying to get close. It took several shots before he got a picture of the wagtail with his beak open, singing.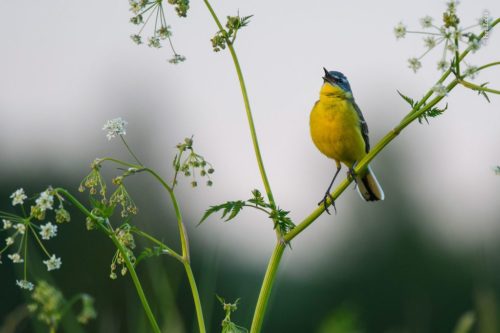 Fred has been taking photos since he was very young. He has won photo contests in Estonia and had one of the best pictures in last year's YWPY contest.
---
Ages 11-14
Winner: Carlos Perez Naval, Spain

Small World
Carlos won the contest this year in the 11 to 14 year age group with a different picture – one of a duck. But this photo of his caught our eye. Carlos noticed crystal patterns on a low stone wall near his house. One day he saw a group of ladybugs crawling out of the grass nearby. He squatted down and waited until this 22-spot ladybug crawled into just the right spot among the tiny "trees" on the wall.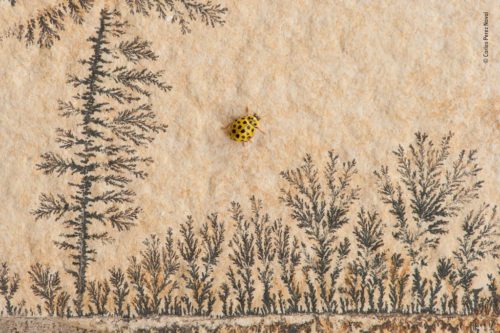 Carlos has been taking pictures since he was five. Carlos won his age group this year, and did very well at the YWPY contest in 2014, 2015, and 2016. In 2014, he won the Grand Title for young photographers.
---
Adam Hakim Hogg, Malaysia
The Victor
Adam lives in the mountains in Malaysia. When he first saw the Titiwangsa horned tree lizard, it was in a ditch, fighting a terrible battle with a poisonous centipede. There was so much exciting action that Adam didn't remember his camera until after the lizard won the battle. Adam crawled into the ditch so that he could take the picture on the lizard's level.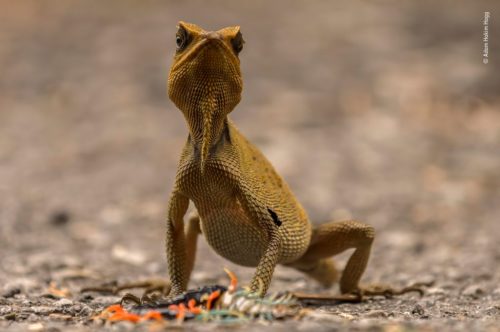 Adam has been taking pictures for years. Last year, he also had one of the best pictures in the YWPY contest.
Ages 15-17
Grand Title Winner: Skye Meaker, South Africa
2018 Young Wildlife Photographer of the Year

Lounging Leopard
Mathoja is an eight-year-old leopard who lives in a special area in Botswana where animals are protected. She is one of the leopards in the area who is most calm around cars. That's how Skye got close enough for a picture. He found her lying on a low branch of a tree. "She would sleep for a couple of minutes," Skye says, "Then look around briefly. Then fall back to sleep." Skye waited and waited until he got the perfect shot.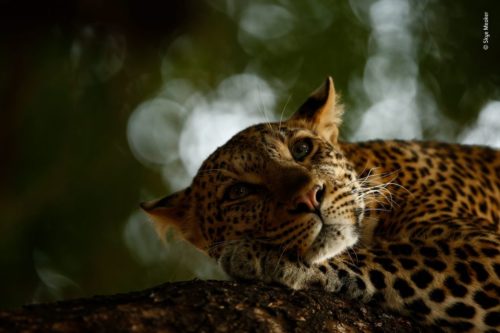 Skye has been taking pictures since he was seven years old. He grew up in a family that loves nature and taking photos.
---
Cameron McGeorge, New Zealand
Overview
Cameron built his first flying drone when he was 12. That gave him the idea of trying to take pictures of whales from the air. At 16, when his family visited Tonga, he had a chance to try the idea. Humpback whales arrive in the area in July to give birth. Cameron spotted a mother, her new calf, and a third whale out at sea. When they were about a mile (1.6 kilometers) away, he sent his drone out. By watching the screen on the remote control, he was able to take the shot just as the mother and the calf were coming out of the water.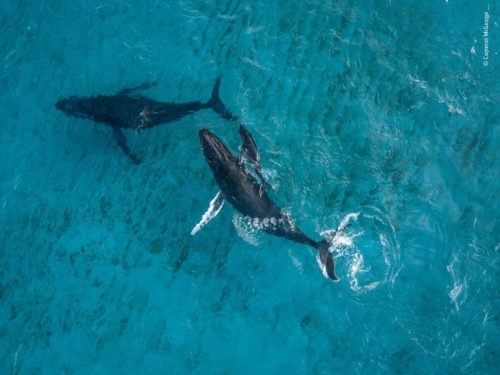 Cameron got his first camera when he was five, and has enjoyed taking pictures ever since. Cameron loves the sea, and wants to use his photos to encourage people to take care of the oceans.
---
The museum has already opened its contest for next year and the deadline is coming up. If you like to take pictures of nature, it's time to get busy! But even if you don't take pictures, you may want to have a look at more of the amazing photos.
😕
This map has not been loaded because of your cookie choices. To view the content, you can accept 'Non-necessary' cookies.