Margate, England —(Map)
On November 4, Ross Edgley became the first person to swim all the way around Great Britain. The trip took him more than five months, during which he never stepped on land.
Mr. Edgley is an athlete who has made a name for himself by taking on some very crazy and difficult challenges.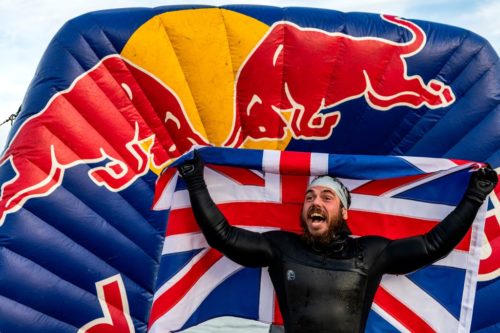 For the "Great British Swim", he began swimming from Margate, UK on June 1. For the next 157 days, he swam about 12 hours a day. By the time he returned to Margate, on November 4, he'd covered 1,791 miles (2,883 kilometers) and gone all the way around Britain. (Great Britain is like the UK without Northern Ireland.)
Mr. Edgley swam every day, and only slowed up his efforts when the seas were too rough for him to swim safely. To make sure he had plenty of rest between swims, Mr. Edgley would usually make one daytime swim and one nighttime swim. This also helped him swim with the ocean's tides, so the water was moving in the right direction.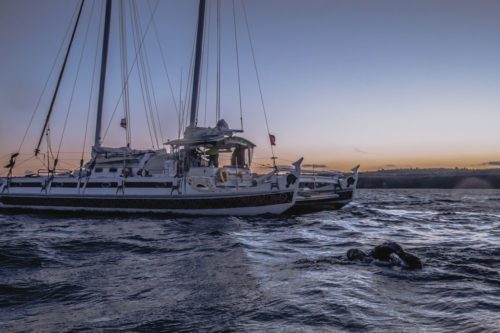 Mr. Edgley had to eat huge amounts of food to make sure he had enough energy to swim. While he was swimming, Mr. Edgley wore a wetsuit – a special suit to help him stay warm in the water. He would swim for about six hours before climbing back onto his support boat to eat and sleep. Later, he would get back in the water for a second six hour swim.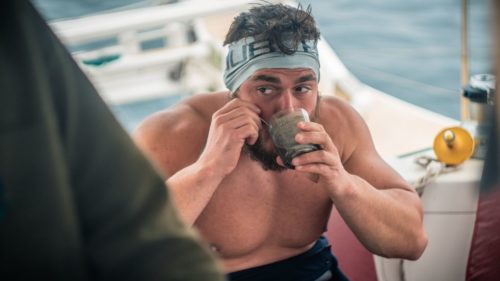 It wasn't easy. Mr. Edgley was stung by jellyfish 37 times. He grew a long beard to help protect his face from jellyfish. His wetsuit rubbed against his neck so badly that it felt like sandpaper. Mr. Edgley actually had to use several wetsuits. He lost so much weight during the trip that he had to use smaller and smaller wetsuits. Spending so much time in the sea caused problems with his skin and even his tongue.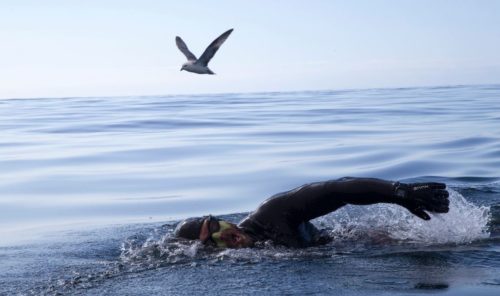 Perhaps the most unusual problem he had was losing the muscles he needed to walk. Mr. Edgley was swimming for many hours a day, and had very little room to walk on the support boat. Near the end of his trip, he needed special help to build up his walking muscles.
This is not Mr. Edgley's first unusual challenge. He has a history of them. In 2016, he ran a marathon – pulling a car behind him! Later that year, he set himself the challenge of climbing a rope over and over again until he had climbed the height of Mount Everest, the world's tallest mountain.
Mr. Edgley is the first person known to swim around Great Britain, and he set several other records along the way. Mr. Edgley has not said yet whether he plans any new unusual challenges for the future. For right now, his biggest challenge is getting used to walking on land again.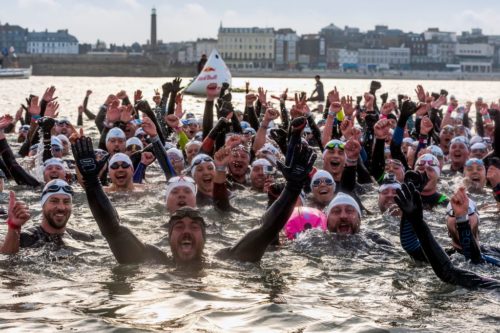 Mr. Edgley hopes his swim will inspire people to challenge themselves. It seems to have worked. Around 300 people joined him on the last day of the trip. Mr. Edgley says, "Find something that you didn't think you were capable of, and prove yourself wrong."
😕
This map has not been loaded because of your cookie choices. To view the content, you can accept 'Non-necessary' cookies.