Rakiura/Stewart Island, New Zealand —(Map)
Last week, hundreds of whales died by swimming onto land in New Zealand. It is not unusual for whales to do this, but this time there were several events in a few different places. This has left people wondering what is behind the deaths.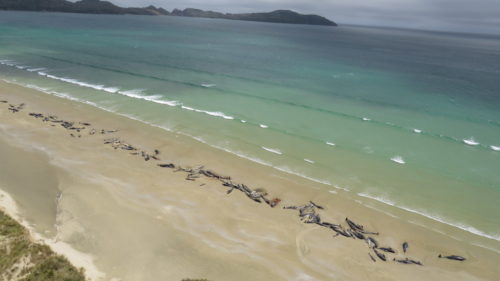 Every year, around 2,000 large sea animals, such as dolphins and whales, die by swimming onto a beach or into water that's too shallow for them to escape. This is known as "beaching". The whales most affected are whales with teeth, such as pilot whales or killer whales.
When these animals are found beached, humans are sometimes able to "refloat" them, so they can swim away safely. A few of the animals in New Zealand were saved, but most died.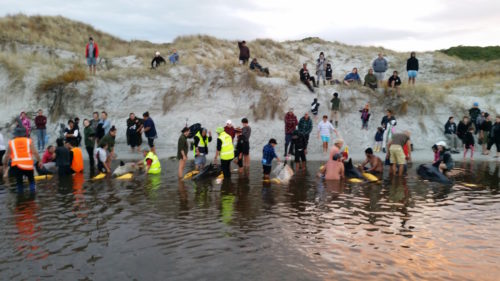 Scientists don't fully understand why beachings happen, but they have some ideas. It's possible that the animals lose their way when they are swimming quickly and focusing on something else, like chasing fish or trying to escape from something chasing them.
The group could also be trying to protect an animal that is sick or injured. Dolphins and whales live in close groups that travel and hunt together. Sadly, this seems to mean that when one has trouble, many may suffer.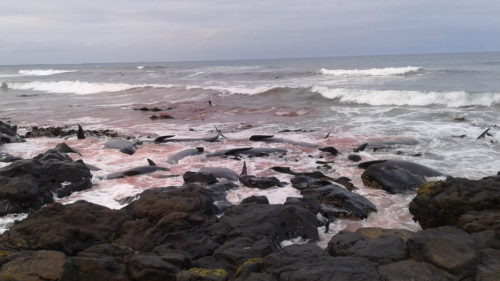 Underwater noise is another possible reason the animals have gotten beached. Whales and dolphins use sound to find their way and talk to each other. Loud underwater noises, whether they are natural or made by humans, can make animals lose their way and make it hard for them to talk to each other.
Humans are making more and more loud noises under the ocean. Navy ships sometimes use sound to find things (such as submarines) underwater. This "sonar" confuses whales and can even make them bleed. Sometimes noises come from humans building things or drilling underwater.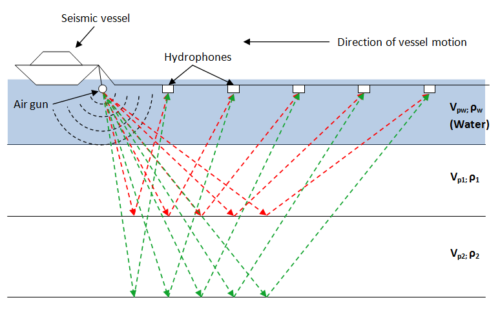 "Seismic surveys" are another kind of loud underwater noise. Seismic surveys use air guns to send huge loud sounds toward the bottom of the ocean to collect information about the sea floor and what's under it. They are used by companies looking for places to drill for oil or gas. The noise from seismic surveys can make it hard for whales' sounds to be heard.
The sounds, which can cover an area of about 115,000 square miles (300,000 square kilometers), could also be driving the animals crazy. The blasts, which happen about once every 10 seconds, can make the noise level in the sea about as loud as the noise of a jet taking off. The surveys can go on for months. The last seismic survey in New Zealand finished around April of this year.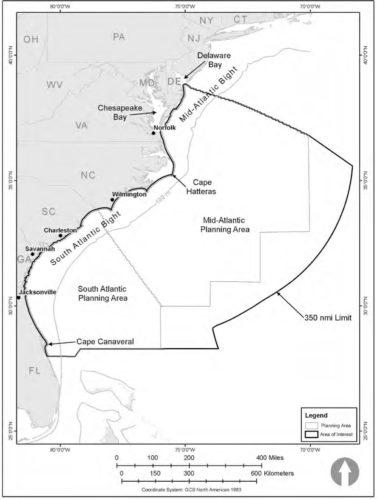 Seismic surveys are making news in the US, too. President Trump has changed the rules so that seismic surveys are now allowed off the east coast of the US. Rules have just been put out that allow companies to "harrass" (annoy) sea animals during these surveys, even if it disturbs their breathing, feeding, or having babies.