A dinosaur skeleton found by a teenager over 20 years ago has led to the naming of a new dinosaur related to the Tyrannosaurus rex. The boy who made the find is now grown and is the lead scientist.
In 1998, 16-year-old Sterling Nesbitt was a junior in high school. He joined a team digging for dinosaur fossils in the Zuni Basin in New Mexico. Fossils are the remains of living things which have been turned into rock over time. Young Sterling found fossils belonging to a tiny dinosaur that scientists could not identify.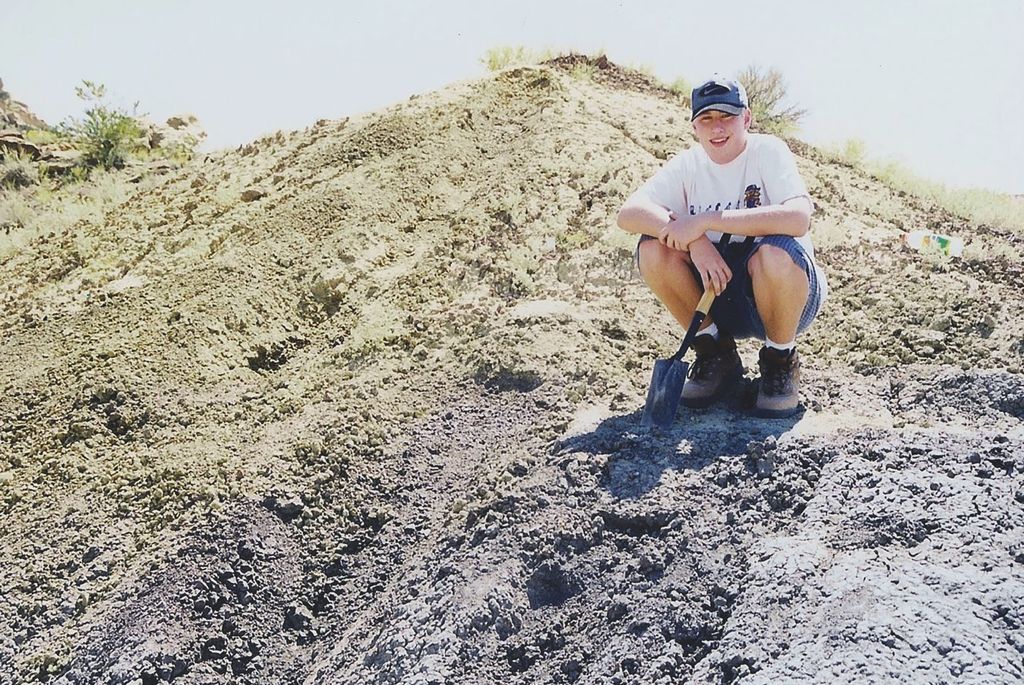 Now, 20 years later, Mr. Nesbitt is the main scientist on a report which describes and names his dinosaur, Suskityrannus hazelae. He's also learned that the dinosaur is related to one of the fiercest dinosaurs ever, the Tyrannosaurus rex.
For most of the time since the fossils were found, scientists still hadn't figured out what kind of dinosaur it was. "We didn't know we had a cousin of Tyrannosaurus rex for many years," Nesbitt said. But in recent years, many other small relatives of the T. rex have been found in other parts of the world. These other small dinosaurs helped the scientists realize the connection between Suskityrannus and the T. rex.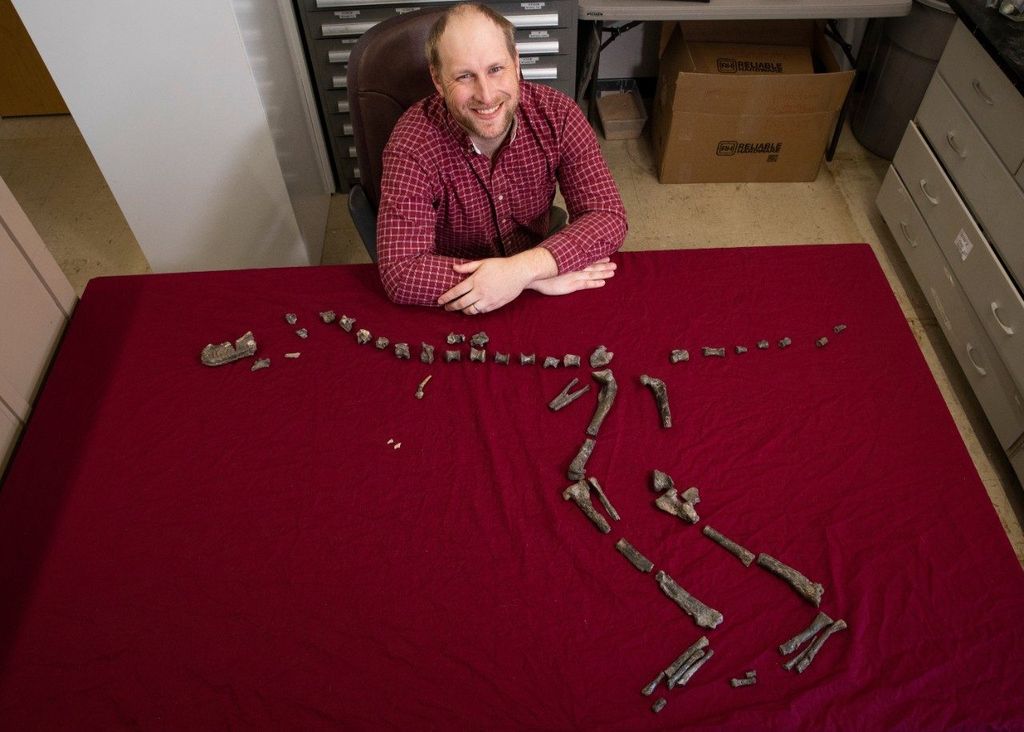 What scientists know about Suskityrannus hazelae is based on the fossils of two separate animals – the skeleton Mr. Nesbitt found, and a less complete skeleton found the year before. Scientists believe both skeletons came from dinosaurs that were about three years old.
Suskityrannus had long feet, strong jaws, and sharp teeth. It ate small animals. Because both skeletons were missing some pieces, scientists still don't know how long the dinosaur's arms were and whether it had two or three fingers.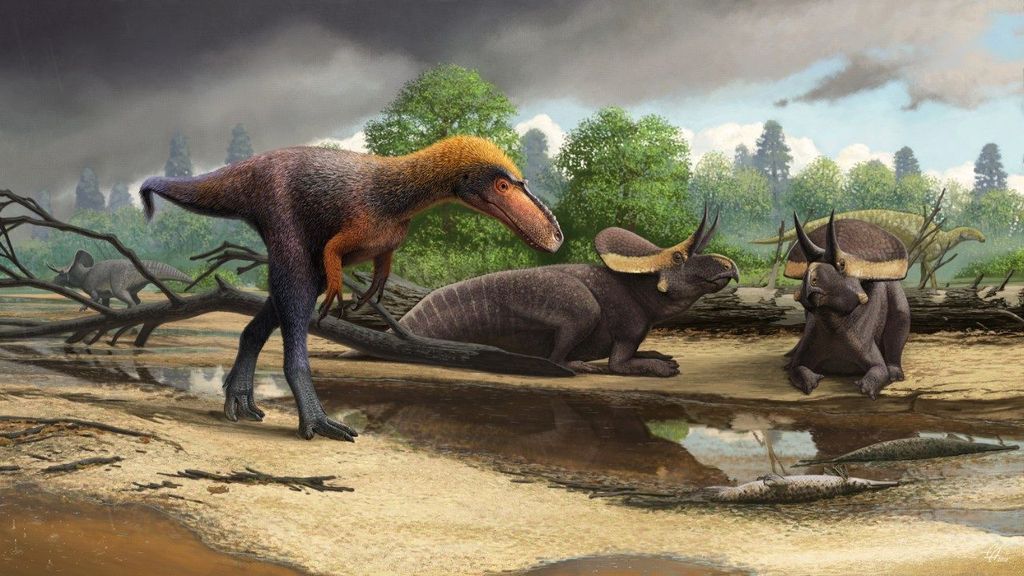 The dinosaur was a small one, just 3 feet (90 centimeters) tall at the hip. From tail to nose, Suskityrannus was about 9 feet (2.75 meters) long. As a comparison, the scientists point out that Suskityrannus 's whole body was only a bit larger than the head of a T. rex.
The Suskityrannus weighed 45-90 pounds (20-40 kilograms). Compare that to the 18,000 pounds (8,200 kilograms) of a full-grown T. rex. The tiny dinosaur lived around 92 million years ago – about 27 million years before the T. rex was around.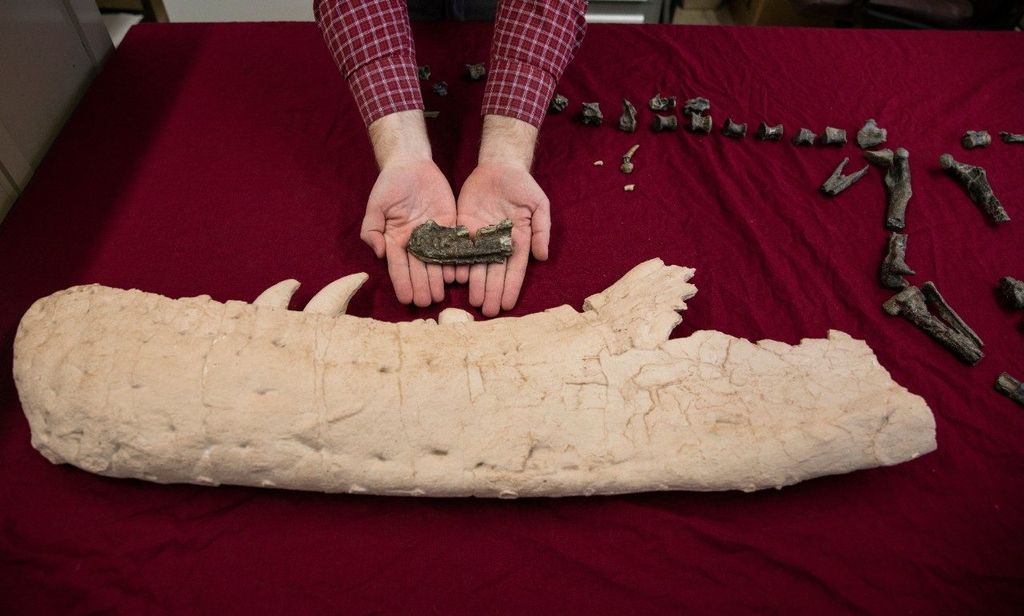 Scientists are still not sure exactly how the T. rex developed from such small dinosaurs as Suskityrannus and the other small T. rex relatives. They do know that the T. rex did not come in a direct line from Suskityrannus .
Mr. Nesbitt says that finding the fossils helped him figure out what he wanted to do with his life. Mr. Nesbitt is now an assistant professor teaching about Earth's history at Virginia Tech University.
---
Did you know…?
Many scientists are upset because a professional fossil hunter is selling the skeleton of a young Tyrannosaurus rex on eBay. Alan Dietrich found the fossils of a 4-year-old T. rex on private land. In the United States, skeletons found on private land belong to the people who dig them up.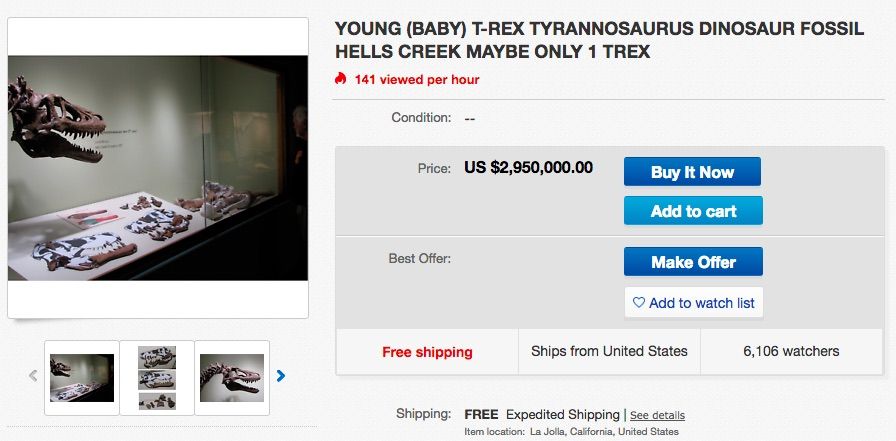 Mr. Dietrich is asking nearly $3 million for the dinosaur. Scientists are upset because they believe fossils like that should be used to improve our knowledge. When fossils are sold to the person who will pay the most, scientists can't afford to study them.