Ponce, Puerto Rico —(Map)
On Wednesday, Puerto Rico began struggling to recover from a series of earthquakes that have hit the island recently. Governor Wanda Vázquez called a state of emergency on Tuesday after the island's strongest earthquake in over 100 years.
The earthquakes have shaken the island, killing at least one person, destroying buildings and homes, and leaving about two-thirds of the island without power.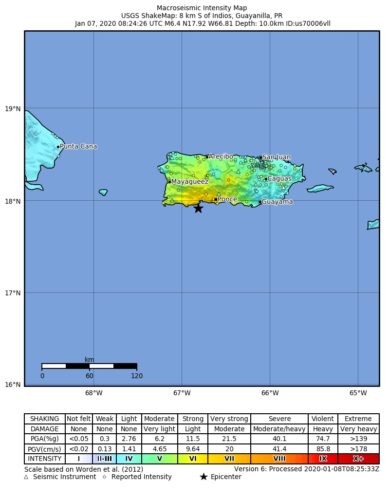 The largest of the earthquakes came before daylight on Tuesday and had a magnitude (strength) of 6.4. That's the strongest earthquake recorded on the island since 1918.
The center of the earthquake was in the sea just south of Puerto Rico. The areas most strongly affected have been along the southern coast of the island, especially in the cities of Ponce, Guayanilla, Guánica, and Yauco.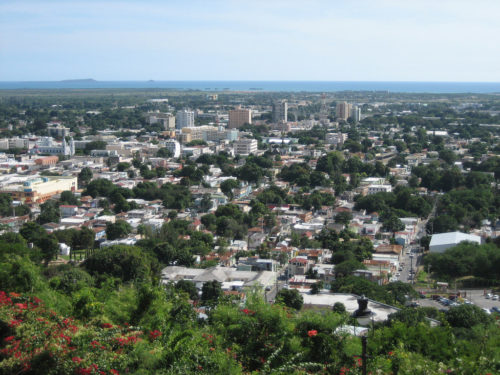 Several buildings, including at least one church and one school, were destroyed. Many homes were also damaged. As many as 350 people were left homeless. In some areas, patients were rolled out of doors in their hospital beds in case the hospital got damaged.
Tuesday's big earthquake caused a cut to electrical power all through the island. The power cut was meant to protect the electrical system, but another earthquake damaged an important power plant. So far about 500,000 customers have gotten power back, but around a million are still without electricity.
Around 300,000 homes were left without drinking water.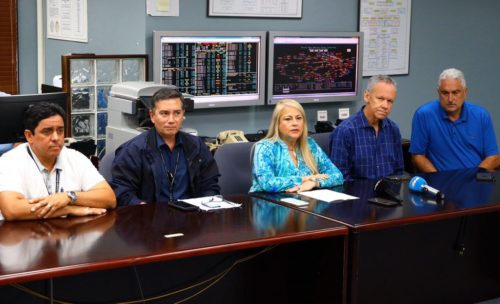 Puerto Rico's governor, Wanda Vázquez has declared a state of emergency. Declaring an emergency allows the island to release emergency money and request money and help from the US.
On Wednesday, government workers were told to stay home so that their buildings could be inspected for safety. Schools in Puerto Rico were closed Wednesday and are expected to remain closed until they are checked.
Ms. Vázquez has called out the National Guard to help in areas hit the hardest.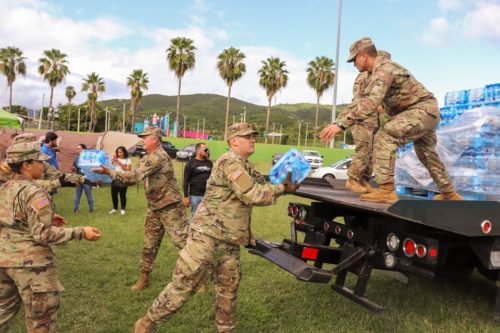 On Tuesday night, hundreds of people in southern Puerto Rico chose to sleep outside so they wouldn't be caught in a collapsing house if more earthquakes came.
Tuesday's earthquakes followed one on Monday with a magnitude of 5.8. That earthquake destroyed several houses along the southern coast.
Monday's earthquake also destroyed one of Puerto Rico's famous sights, Punta Ventana ("Window Point"), in Guayanilla. Punta Ventana was a large stone arch which formed a circle near the sea. But the earthquake's shaking caused the arch to collapse.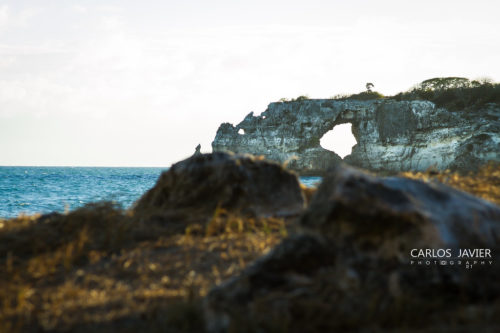 The island has been shaken by hundreds of smaller earthquakes since December 28. Several of those earthquakes had a magnitude of 5 or more.
Large earthquakes are usually followed later by smaller quakes known as "aftershocks". For many people in Puerto Rico, over the last ten days, it has felt like the ground is almost always shaking.
Puerto Rico has had several disasters in recent years, such as Hurricane Irma and Hurricane Maria in 2017. The hurricanes damaged many of the island's important systems, including its electrical system. Following Hurricane Maria, Puerto Rico struggled through the longest power outage in US history.
😕
This map has not been loaded because of your cookie choices. To view the content, you can accept 'Non-necessary' cookies.