15-Year-Old Carries Father Across India on Bike
When 15-year-old Jyoti Kumari's father had an accident and couldn't walk, he was also unable to work. That meant that he and his daughter couldn't afford to pay for the place where they were staying in Gurugram, near New Delhi, India.
Kumari realized that she and her father might starve if they remained. The two needed to get home, but trains weren't running because of the coronavirus lockdown.
So Kumari bought a bicycle and began the 745 mile (1,200 kilometer) trip back to their village, Darbhanga.
It took Kumari 10 days to bike that distance, with her father on the back of the bicycle. She continued in spite of being worn out from the effort. The pair were lucky enough to have strangers give them food and water. Across all the distance, Kumari and her father were only given one short ride on a truck.
😕
This image has not been loaded because of your cookie choices. To view the content, you can accept 'Non-necessary' cookies.
"It was a difficult journey. The weather was too hot, but we had no choice," Kumari says. "I had only one aim in mind, and that was to reach home."
After the news spread about Kumari's amazing cycling efforts, India's most important biking group, the Cycling Federation of India, asked Kumari try out for their team. The group has offered to pay for Kumari to go back to New Delhi to try out once India's lockdown is lifted.
New Zealand Prime Minister Unshaken by Earthquake
New Zealand Prime Minister Jacinda Ardern has impressed many people around the world with her leadership abilities. She often seems able to remain calm, even in difficult situations.
She showed that ability once again on Monday when an earthquake struck when she was in the middle of a live TV interview. The event didn't seem to bother Ms. Ardern at all.
"We're just having a bit of an earthquake here," she said.
😕
This image has not been loaded because of your cookie choices. To view the content, you can accept 'Non-necessary' cookies.
The earthquake was a fairly strong one, with a magnitude of 5.6. New Zealand is part of an area called the "Ring of Fire" – a large area in Asia where earthquakes and volcanoes are common.
Scientists Report that Penguin Poop Creates Laughing Gas
Scientists recently reported some unusual news about penguin poop – it creates laughing gas.
Laughing gas is actually a gas called nitrous oxide. It gets its name because when people breathe the gas, they feel very good, and often find things around them quite funny. Nitrous oxide can help relieve pain, so it's often used by doctors and dentists.
The scientists were studying the poop – known as guano – of King Penguins on an island near Antarctica. The researchers were especially interested in the gases given off by the guano. They wanted to see what part the flightless birds play in climate change.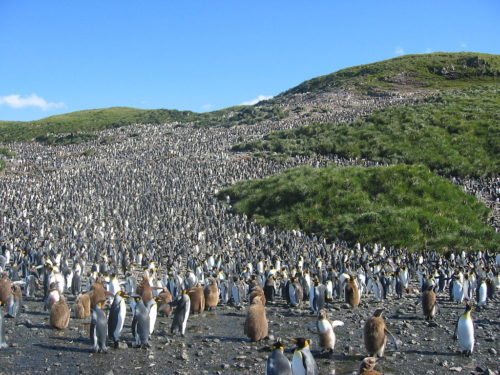 They learned that penguin poop gives off very high levels of laughing gas – far higher than the poop of many farm animals. The scientists say that the penguin poop doesn't produce nitrous oxide by itself. But after it hits the ground, bacteria in the ground helps change parts of the poop into laughing gas.