Climate change means the way the world's weather has changed over a long period of time. Some changes are short compared to how old the world is. For example, the weather might be hotter or colder one year. Short changes like this aren't climate change. When people talk about climate change, they mean changes that last for a long time.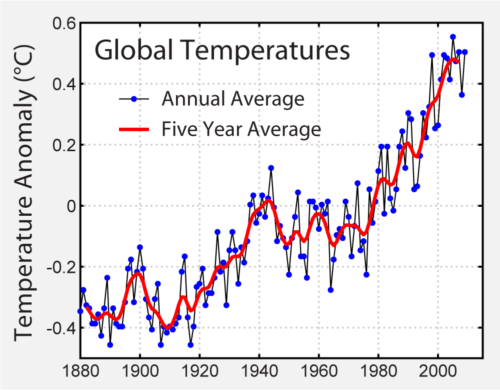 Global warming (hotter air temperatures around the world) is one example of climate change. Temperatures today are about 1.6 degrees Fahrenheit (F) warmer than they were 150 years ago. (0.9° Celsius) That may not seem like much, but it is enough to make glaciers and ice caps at the North and South Poles begin to melt. As temperatures go up, sea levels rise, and patterns in the weather change.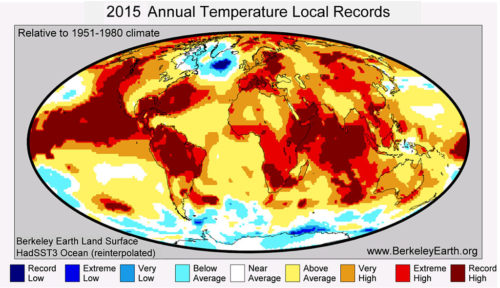 Many people now are talking about climate change caused by humans. Around 97% of scientists who study climate believe that humans have caused much of the recent global warming. Burning fossil fuels like coal, oil, and natural gas adds carbon dioxide and other gases to the air. When there is more carbon dioxide in the air, the earth heats up even more.
Scientists say that governments must work to slow down how quickly the world is heating up. One way to do this is by using energy from the sun and wind rather than burning coal and oil. Scientists say that if the world heats up another few degrees, there will be no way to control the temperature.