SpaceX Launches First US Human Spaceflight Since 2011
On Saturday afternoon, a SpaceX Falcon 9 rocket lifted off from Florida, carrying two American astronauts into space. It was the first time people have been sent into space from the US in nearly 10 years. It's also the first time a private company has sent people into space.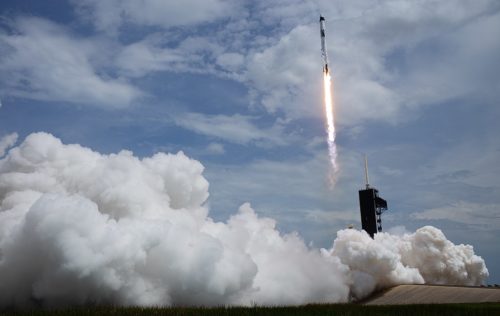 The launch marks a big change for NASA. In the past, NASA designed and owned its ships, but had other companies build them. The Falcon 9 rocket and the Crew Dragon capsule (which carries the astronauts), are built and owned by Elon Musk's SpaceX company.
For nearly 10 years, the US has been paying Russia to carry its astronauts into space. That makes this launch a big step for the US-based space program, though it's still seen as a test.
NASA astronauts Bob Behnken and Doug Hurley have each made several trips into space before. The two will fly through space for about 19 hours before docking with the International Space Station (ISS) on Sunday morning.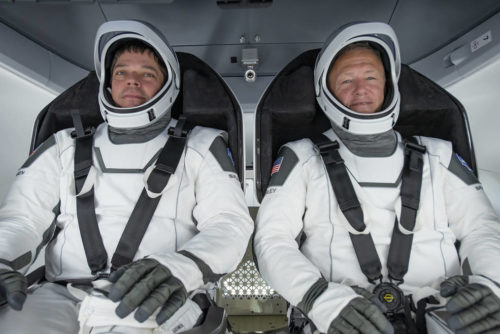 It's not clear exactly how long the astronauts will remain on the ISS, but when they leave, they will also be the first to test Crew Dragon's return to Earth.
Update: The Crew Dragon capsule safely docked with the ISS on Sunday morning.
South Korean Man Ends Year on Top of Tower
On Friday, a man in Seoul, South Korea came down from an 82 foot (25 meter ) tower, where he has spent nearly a year. Kim Yong-hee spent 354 days on a small platform on top of a tower in a busy area of the Korean capital as a protest against the company Samsung.
Mr. Kim was fired by Samsung 25 years ago for trying to organize Samsung's workers into unions. Unions help workers protect their rights and make better deals with companies.
😕
This tweet has not been loaded because of your cookie choices. To view the content, you can accept 'Non-necessary' cookies.
Mr. Kim has been protesting against Samsung in different ways for the last 25 years. On June 10, 2019, Mr. Kim used a crane to reach the platform at the top of the tower. He has lived there ever since. His friends sent him food and other supplies with a rope. He lowered his waste the same way.
Now Samsung has apologized to Mr. Kim and made a deal with him. As a result, Mr. Kim has finally ended his protest, coming down on a fire ladder. He was greeted with flowers at the bottom.
Elon Musk and Grimes Rename Their Baby – Slightly
When singer Grimes and Elon Musk (the man behind the Tesla car company and the SpaceX company mentioned above) had a baby, it made the news. That was partly because both parents were famous. But it was also because they chose to name the boy "X Æ A-12".
😕
This image has not been loaded because of your cookie choices. To view the content, you can accept 'Non-necessary' cookies.
The couple explained how they came up with the name X Æ A-12. The 'X' stands for something unknown. The 'Æ' is meant to stand for AI (Artificial Intelligence). The A-12 comes from a kind of airplane.
Now the couple has announced that the child's name has been changed – but not by much.
Instead of "X Æ A-12", the baby is now named, "X Æ A-Xii". Xii still means '12', but it's written in a number system known as Roman numerals. Grimes says she thinks the Roman numerals look better.