Christo, the artist who worked to turn landscapes and buildings into massive, temporary works of art, died Sunday at age 84. Christo surprised the world again and again with the imagination and size of the artworks he created.
Christo Javacheff, who was usually known only by his first name, was born in Bulgaria in 1935. In 1959, he met his wife Jeanne-Claude in Paris. Together, the two formed a strong partnership that would last the rest of their lives.
They worked as a team to create huge works of art called installations. In these installations, Christo and Jeanne-Claude often changed the way buildings or large areas of land looked – a kind of art known as "land art".
😕
This image has not been loaded because of your cookie choices. To view the content, you can accept 'Non-necessary' cookies.
The two were famous for "wrapping" things so large that most people would never think to wrap them. Many of their projects used huge pieces of cloth or plastic.
For example, in 1969, they wrapped 1.6 miles (2.5 kilometers) of rocky coastline near Sydney, Australia. At the time, it was the largest artwork ever made. In 1995, they used cloth to wrap up the Reichstag, a famous and historic building in Berlin, Germany.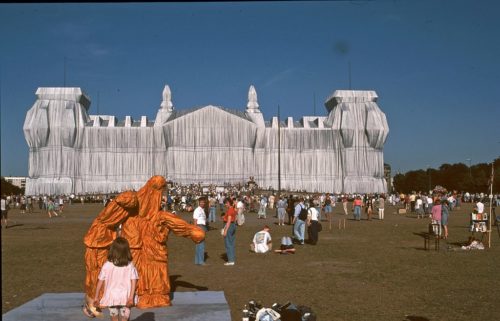 In 1976, they put up Running Fence – a 25 mile (40 kilometer) fence with cloth on it. For their Umbrellas installation, Christo and his wife set up over 3,000 yellow and blue umbrellas in Japan and California. The umbrellas were 20 feet (6 meters) tall and over 28 feet (8 meters) across.
Because their art works were so large, they cost a lot of money to create. The artists paid for the projects themselves by selling the plans, drawings, and models they made for each installation. Many projects seemed so unusual that the couple had to work very hard to get permission to create them.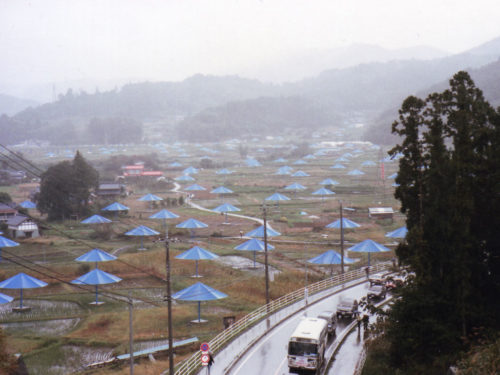 At first, the couple used only Christo's name, though they worked together on the projects. In later years, all of their works were labeled as being by "Christo and Jeanne-Claude". After Jeanne-Claude died in 2009, Christo kept working.
Though the couple's work is known as "land art", it was often placed on water. In 1983, they surrounded 11 islands near Miami, Florida with floating pink collars. In 2016, Christo created a 1.9-mile (3-kilometer) floating walkway near Brescia,Italy by laying bright yellow cloth on top of floating plastic cubes.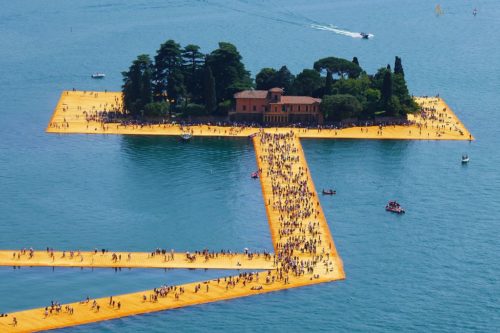 At least two of the artist's works were like massive cloth balloons. In 2013, the work Big Air Package became the world's largest "self-supporting sculpture". When filled with air, it was 300 feet (90 meters) high and 160 feet (50 meters) across.
But, like almost all of the artist's work, it was only meant to last a short time. Most of the installations only stayed up for a few weeks or months before being taken down.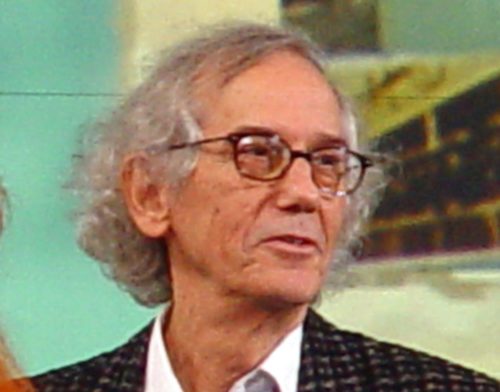 "I am an artist, and I have to have courage," Christo said. "Do you know that I don't have any artworks that exist? They all go away when they're finished."
Christo himself has gone away now. But he leaves behind an art world forever changed by the memory of his huge and daring artworks.